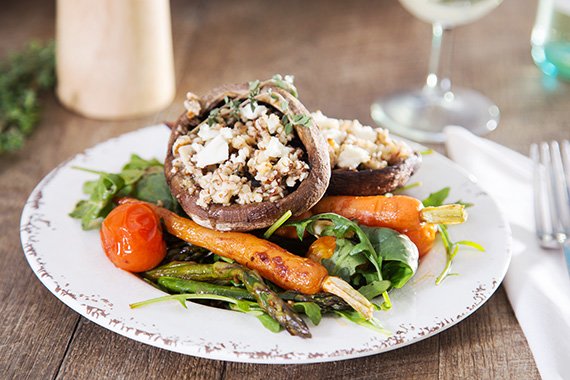 Almond & Thyme Crusted Mushrooms with Tray Roasted Veg & Fetta
Prep time: 30
Calories: 390
In this recipe thyme and almond crusted mushrooms are combined with roasted baby carrots, onion and asparagus and fetta. The best bit? You only really need one tray, so dishes duty is a cinch. Share the moment #youplateit with us on Instagram or Facebook and enjoy!
Ingredients
200 Grams of Portobello Mushrooms

0.5 Bunch of Baby Carrots

120 Grams of Cherry Tomatoes

100 Grams of Asparagus

1 75 Gram Pack of Rocket & Baby Spinach

1 Small Bunch of Thyme

50 Grams of Almonds

70 Grams of Fetta Cheese

1 Red Onion

0.5 Teaspoons of Paprika
Recipe
Prepare Ingredients:
Set oven to 220°C. Wash the fresh produce. Trim carrots (as desired - we left a little green on ours). Cut ¾ of onion (you will have left over) into 5 mm wedges. Pick thyme leaves (discarding stalks). Remove woody ends of asparagus and cut in half.
Roast Vegetables:
Toss carrots, onion wedges, tomatoes and asparagus on a lined oven tray with paprika, 1 TBS olive oil, salt and pepper. Roast for 10 minutes, remove from oven and leave the oven on.
Make Almond & Thyme Crumb:
Add almonds to food processor (roughly chop almonds if you don't have a food processor) along with thyme leaves, 1 TBS olive oil, salt and pepper. Pulse together until it reaches a chunky crumb consistency.
Cook Mushrooms:
Coat mushrooms with olive oil, salt and pepper. Arrange mushrooms on top of roasted vegetables. Cover mushrooms with even amounts of fetta (reserving some for garnish) and almond/thyme crumb. Return tray to oven to cook for a further 10 - 15 minutes, or until mushrooms are cooked through.
You Plate It:
Carefully remove mushrooms from top of roasted vegetables and toss vegetables with spinach & rocket leaves. Drizzle with olive oil (extra virgin if you have it). Divide roasted vegetables amongst plates, crumble over any remaining fetta and serve with crumbed mushrooms. Enjoy!