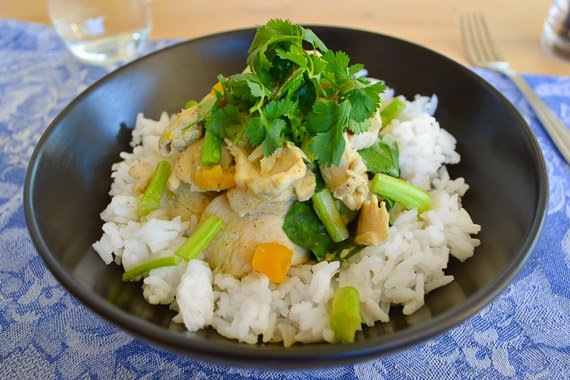 Apricot Chicken Coconut Curry with Jasmine Rice
Prep time: 25
Calories: 512
This recipe is an ode to the Silk Road, combining some of the key ingredients that worked their way along the trade route to create an explosion of culinary fusion and ignite the hearts of home cooks. In this recipe you will use coconut milk, introduced from Southeast Asia, curry powder in the style of eastern India, nuts and dried fruit like the Middle East, and even Chinese style vegetables. Happy cooking!
Ingredients
0.75 Cups of Jasmine Rice

120 Grams of Dried Apricots

3 Chicken Thighs (skinless)

2 Garlic Clove

1 Ginger

1 Small Bunch of Coriander

1 Brown Onion

0.5 Bunch of Chinese Broccoli

0.5 Tablespoons of Curry Powder

1 400 Gram Pack of Coconut Milk

120 Grams of Snow Peas
Recipe
Cook Rice:
In a medium pot, bring 1⅓ cups water to a boil. Stir in the rice; cover and reduce the heat to low. Simmer for 15 minutes until all of the water is absorbed. Taste the rice; if it is still too firm, add a few more tablespoons of water. Cover the pot and let the rice absorb the water off of the heat. Fluff the finished rice with a fork.
Prepare Ingredients:
Wash the fresh produce. Roughly chop the apricots. Peel and mince the garlic and ginger. Roughly chop the coriander. Peel and small dice the onion. De-string snow peas and cut in half on a slight angle. Roughly chop the Chinese broccoli leaves and stems; discarding tough ends. Pat dry the chicken with paper towel. Thinly slice the chicken.
Start Curry:
In a large pan (or pot) heat olive oil on high until hot. Add the onion and cook 1 to 2 minutes, or until softened. Add the garlic and ginger and cook 30 seconds or until fragrant, stirring occasionally. Add the apricots and chicken. Cook 2 to 3 minutes, stirring occasionally.
Simmer Curry:
Add the curry powder and cook about 30 seconds, stirring to coat the chicken. Stir in ¾ of the coconut milk (you will have remainder), scraping up any brown bits at the bottom of the pan. Reduce the heat to medium, and simmer 1 to 2 minutes, or until thickened slightly. Taste and season as required.
Add Greens:
Add the Chinese broccoli and snow peas and cook 2 to 4 minutes, or until bright green and tender-crisp.
You Plate It:
Divide the rice between bowls. Top with chicken curry and garnish with coriander. Enjoy!