Description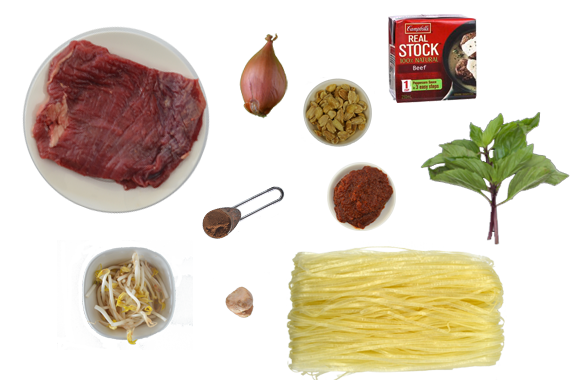 Ingredients
30 Grams Bean Sprouts
1 Small Bunch Thai Basil
1 Ginger
2 Shallot
1 Tablespoons Peanuts
300 Grams Top Round Steak
1 1L Pack Beef Stock
1 Pack Pho Spice Mix (Star Anise, Coriander)
0.25 Teaspoons Thai Chili Paste
1 180 Gram Pack Rice Noodles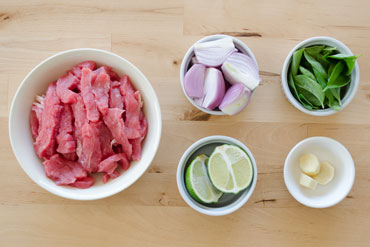 Prepare the ingredients:
Bring a large pot of water to a boil over high heat. Wash the fresh produce. Tear Thai basil leaves, discarding stems. Trim and discard skin of ginger and cut into 3 pieces. Peel shallots and quarter. Roughly chop peanuts. Pat dry beef with paper towel. Slice against the grain as thinly as possible.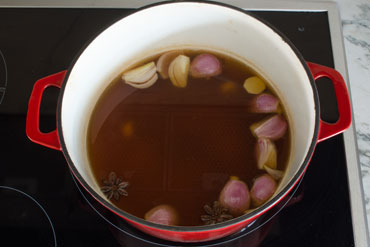 Make Pho Broth:
In a separate large pot, combine beef broth, spice mix, ginger, and shallot. Bring to a boil over high heat, then cover pot, reduce heat to medium, and simmer until flavors have melded, about 15 minutes.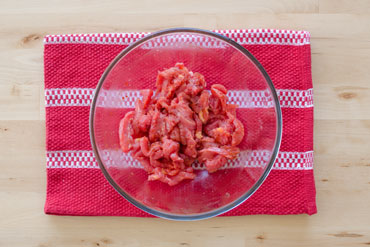 Marinate Beef:
While pho broth simmers, in a medium bowl, combine beef with Thai chile paste. Toss to coat. Set aside to marinate for at least 10 minutes at room temperature or overnight in fridge.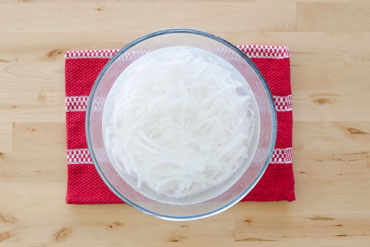 Cook Rice Noodles:
Place rice noodles in a large bowl and pour over boiling water. Soak until tender, 9-10 minutes. Drain and rinse under cold water for 30 seconds. Divide rice noodles evenly between bowls and top with bean sprouts.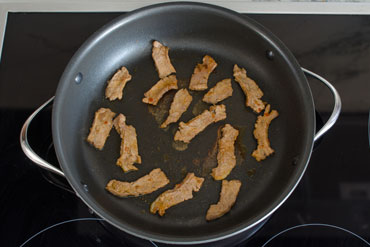 Cook Beef:
Heat 1 teaspoon vegetable oil in a large pan over medium heat. Season beef with salt and pepper. When oil is shimmering, add beef and cook until browned on outside and cooked through, about 2 minutes per side. Divide evenly over rice noodles.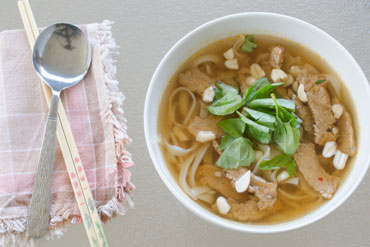 You plate it:
Strain pho broth through a colander, reserving broth and discarding all other ingredients. Taste and add salt and pepper as needed. Pour evenly over noodles and beef. Garnish with Thai basil and peanuts. Serve hot. Enjoy!