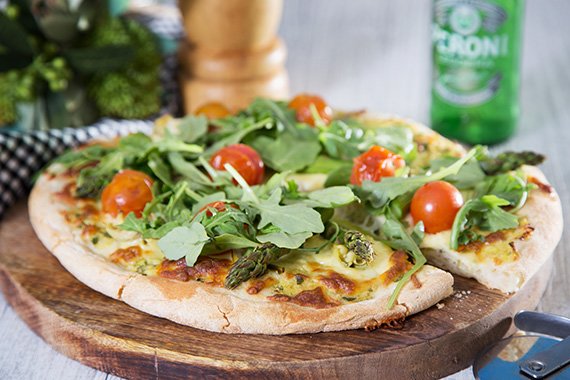 Artichoke & Mozzarella Pizza with Fresh Asparagus, Cherry Tomatoes & Rocket
Prep time:

25

minutes

Calories: 360
This vegetarian pizza has a fun twist - instead of the traditional tomato sauce base you will make your own artichoke sauce. Add some asparagus, cherry tomatoes and creamy mozzarella on the divine sourdough pizza bases from La Pagnotta - say no more! Share the moment #youplateit with us on Instagram and Facebook.
Ingredients
1 Pizza Base

1 Cups of Mozzarella (Grated)

300 Grams of Artichoke Hearts (in Brine)

25 Grams of Parmesan (Shredded)

100 Grams of Asparagus

50 Grams of Rocket

100 Grams of Cherry Tomatoes

1 Small Bunch of Flatleaf Parsley
Recipe
Make Artichoke Sauce:
Preheat oven to 250°C. Wash the fresh produce. Pick parsley leaves, discarding stems. Drain artichokes, (reserving 3) and add to food processor, along with parsley, parmesan and 2 TBS olive oil. Blitz to a thick paste, season with salt and pepper.
Add Mozzarella:
Spread artichoke sauce over the pizza base. Spread grated mozzarella over the base with more on the outer edges than in the centre.
Add Tomatoes & Asparagus:
Break up the remaining artichokes and sprinkle over the top. Remove woody ends of asparagus and add to the pizza, along with tomatoes (we left ours whole).
Cook Pizza:
Add pizza to the oven. Cook for 10 to 12 minutes until the base is browned and the tomatoes have blistered, or until done to your liking.
You Plate It:
Remove pizza from the oven, add rocket leaves to the top, cut into slices and serve straight away. Enjoy!