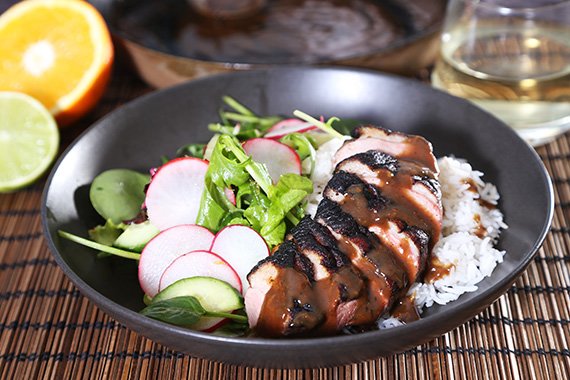 Asian Style Duck with Cucumber, Radish & Rice
Prep time:

35

minutes

Calories: 530
Time to try something a little different? Succulent duck breast flavoured with orange and garam masala, paired with a crunchy cucmber and radish salad and fluffy rice. Topped with a hoisin dressing and you are definitely doing mid week meals right! Share the moment #youplateit with us on Instagram and Facebook.
Ingredients
2 Duck Breast (medium)

1 Teaspoons of Garam Masala & Ginger

1 Tablespoons of Chinese Rice Wine

1 Lime

1 Lebanese Cucumber

3 Radish

2 Tablespoons of Hoisin

0.5 Cups of Jasmine Rice

1 Orange

1 75 Gram Pack of Asian Lettuce Mix

1 Teaspoons of Sesame Oil

1 Spring Onion
Recipe
Cook Rice:
Preheat oven to 180°C. In a medium pot, bring 1 cup water to a boil. Stir in the rice; cover and reduce the heat to low. Simmer for 15 minutes until all of the water is absorbed. Taste the rice; if it is still too firm, add a few more TBS of water. Cover the pot and let the rice absorb the water off of the heat. Fluff the finished rice with a fork.
Marinate Duck:
Wash the fresh produce. Zest and juice orange. In a bowl combine garam masala, ginger, ½ the orange zest and juice (to taste) and Chinese rice wine with sesame oil. Pat duck dry on paper towel. Using a sharp knife, score the skin in a crisscross pattern and lightly season with salt. Add duck and turn to coat in the mixture, then set aside to marinate while you prepare the salad.
Prepare Salad:
Trim cucumber ends, cut in half length wise and thinly slice. Thinly slice spring onion, keeping white and green parts separate. Thinly slice radish into rounds (using a mandolin if you have one). Zest and juice lime. In a large bowl, combine lime zest and juice (to taste) with white parts of spring onion with 2 TBS olive oil (extra virgin if you have it). Add Asian lettuce mix, cucumber and radish and toss well to combine.
Cook Duck:
Heat a non stick pan over medium-high heat. Place duck (reserving remaining marinade), skin-side down, in the pan. Cook for 4 - 5 minutes or until golden and some of the fat has rendered down. Flip duck, and cook for 1 minute. (TIP: if you have a pan that is ovenproof it will save you some dishes). Place duck in the oven and roast for 10 minutes for medium or until cooked to your liking.
Make Sauce:
Transfer duck to a plate and set aside to rest. Drain pan of excess fat, then add reserved marinade, hoisin and ¼ cup water. Allow to bubble over medium heat for 2 - 3 minutes, until thickened.
You Plate It:
Divide rice amongst plates and top with duck sliced to your liking and cucumber and radish salad on the side. Garnish with sauce and green spring onion ends.