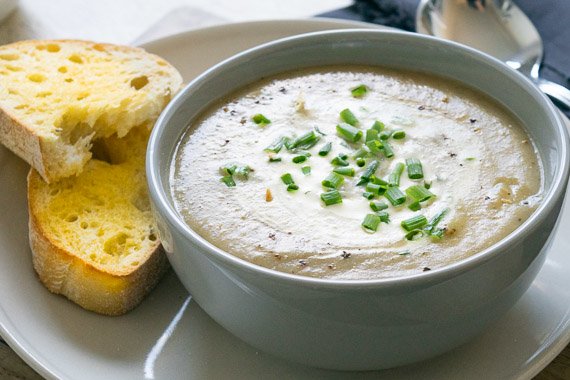 Bacon & Jerusalem Artichoke Soup, Served With Toasted Ciabatta & Cream
Prep time:

30

minutes

Calories: 588
There are a couple of different methods to making this soup. You can peel the artichokes, throw away the skins and boil the vegetables as the recipe suggests. Or, you can take the peels, boil them in the stock until soft, then sieve them out and cook the remaining vegetables in the Jerusalem artichoke stock. Every method is right, choose which one is best for you. Enjoy.
Ingredients
1 Teaspoons of Butter (pantry)

1 Brown Onion

1 Garlic Clove

450 Grams of Jerusalem Artichokes

1 30 Gram Pack of Concentrated Chicken Stock

30 Grams of Thickened Cream

1 Small Bunch of Chives

1 200 Gram Pack of Diced Bacon (Mondo)

2 Ciabatta Roll
Recipe
Sauté Bacon, Onion & Garlic:
Preheat the oven to 200°C. Chop onion, peel and mince the garlic. Add ¾ of the diced bacon (you'll have left over) in a large pot on medium heat; cook for about 2 to 3 minutes. Add about ½ Tbs oil and butter, onion and garlic. Gently sauté.
Add Artichokes & Stock:
Scrub the Jerusalem artichokes really well; then slice. When the onion has softened after about 5 minutes, add the Jerusalem artichokes, concentrated chicken stock, 600 ml water then stir well to combine.
Bring to Boil:
Bring the contents to the boil, reduce the heat and simmer gently for 20 minutes or until the artichokes are soft. In the meantime, thinly slice the chives.
Toast Ciabatta:
With about 10 minutes cooking time remaining, cut the ciabatta rolls in half then drizzle with olive oil (or extra butter). Place on a baking tray and toast in the oven for 4 to 6 minutes, or until browned and crispy.
Blend Soup:
Blend the soup with a hand-held blender or transfer to a food processor/blender. Note: If using a blender, remember that blending hot vegetables and stock will release steam. Allow some way for it to escape to ensure that the lid doesn't blow off.
You Plate It:
Season with salt and pepper as required. Divide the soup between bowls. Add the cream, sprinkle with chives. Serve with toasted ciabatta on the side. Enjoy!