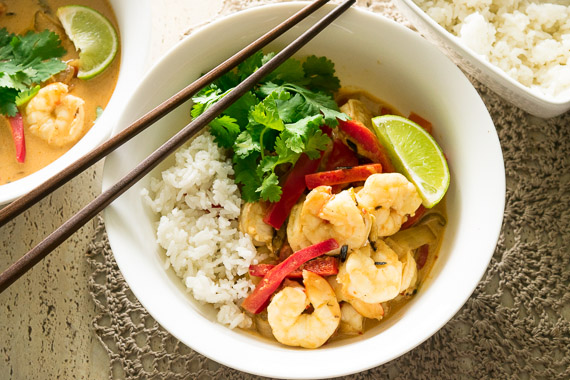 Bahia-Style Moqueca Prawn Stew with Jasmine Rice
Prep time: 30
Calories: 510
Bahia is a state of northeast Brazil and home to the vibrant costal town of Salvador. Paul, You Plate It co-founder, visited Salvador and discovered a cooking culture with a unique blend of Afro-Portuguese cuisine. Recipes are often heavy in capsicum, coconut milk and seafood. This recipe is an easy to cook version of the regions most popular dish and uses all the key elements of Bahia cuisine. Share the moment you plate it on Instagram #youplateit
Ingredients
300 Grams of Prawns (peeled, tail off)

2 Garlic Clove

1 Lime

2 Spring Onion

1 Brown Onion

1 Red Capsicum (Small)

1.5 Teaspoons of Paprika & Chili Flakes

2 Tomato

1 400 Gram Pack of Coconut Milk

1 Small Bunch of Coriander

0.5 Cups of Jasmine Rice
Recipe
Marinate Prawns:
Peel and mince the garlic. Devein and pat dry the prawns with paper towel. Cut the lime into quarters. Place the prawns in a bowl with the juice of half the lime, ½ teaspoon of salt and half the garlic. Stir to combine, set aside.
Cook Rice:
In a medium pot, combine the rice with 1 cup of water and a pinch of salt. Stir to loosen the rice. Heat the pot to boiling on high. Once boiling, cover, then reduce the heat to low, and simmer about 15 minutes, or until the water is absorbed and the rice is cooked through. Fluff the finished rice with a fork. Taste the rice; if it is still too firm, add a few more tablespoons of water. Cover the pot and let the rice absorb the water off of the heat.
Prepare Ingredients:
Wash the fresh produce. Medium dice the tomatoes, discarding seeds. Thinly slice the spring onions on an angle. Slice ¾ of the onion you will have remainder into thin wedges. Thinly slice the capsicum.
Start Prawn Stew:
Heat oil in a medium pot to medium heat. Add the spring onion and onion and cook for 5 minutes, then add the sliced capsicum, chili flakes, paprika and remaining garlic.
Finish Prawn Stew:
Add in the tomatoes, ¾ coconut milk you will have some leftover and season with salt to taste. Reduce heat to low. Simmer and let reduce for 10 minutes. Add the prawns, all the marinade and a squeeze of lime juice to taste. Mix to combine and so prawns are submerged in the liquid. Gently simmer until the prawns turn white, about 3 minutes. Adjust seasoning as required, adding more salt or lime juice to taste.
You Plate It:
Divide between bowls. Serve with the coriander and rice. Enjoy!