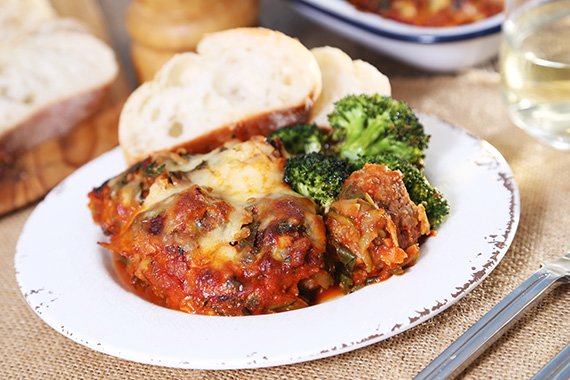 Baked Beef & Oregano Meatballs with Broccoli & Ciabatta
Prep time:

40

minutes

Calories: 630
Baking this dish allows for plenty of moisture and flavour to stay in your meatballs, where it belongs. Served with some baked broccoli, the cheddar cheese topping and a crusty ciabatta roll add an indulgent touch to this delicious dish. It's sure to become a family favourite. Share the moment #youplateit with us on Instagram and Facebook. Enjoy!
Ingredients
2 Garlic Clove

1 Small Bunch of Oregano

250 Grams of Beef Mince

35 Grams of Panko Bread Crumbs

60 Grams of Tasty Cheese (grated)

1 Zucchini

1 75 Gram Pack of Baby Spinach

1 Ciabatta Steak Rolls

1 Teaspoons of Italian Herbs

1 Egg (pantry)

1 350 Gram Pack of Lampomodoro (Passata)

0.5 Broccoli
Recipe
Prepare Ingredients:
Preheat the oven to 220°C. Wash the fresh produce Peel and mince garlic. Pick and finely chop the oregano leaves. Cut the zucchini in half length wise and scrape out the seeds (discarding the seeds) and grate. Cut the broccoli into small florets. Roughly chop a large handful of baby spinach.
Make & Seal Meatballs:
In a bowl, combine the mince, egg, Italian herbs, breadcrumbs, salt and pepper. Using damp hands, take a heaped spoonful of the beef mixture and shape into a small meatball. Set aside on a plate and repeat (you should get about 10 meatballs). In a pan, heat a drizzle of olive oil (enough to cover the base) over a medium-high heat. Add the meatballs (cooking in batches if necessary) and seal until browned, 5 - 7 minutes (they don't need to be cooked through at this point). Transfer to an ovenproof baking dish and set aside.
Make Sauce:
Return the same pan to a medium-high heat with a drizzle of olive oil (if needed). Add garlic, oregano and zucchini and cook until fragrant, 1 - 2 minutes. Add the passata and chopped spinach and simmer, cooking another 2 minutes until spinach has wilted. Season to taste with salt and pepper.
Bake Meatballs:
Pour the sauce over the meatballs in the baking dish and sprinkle with the grated cheese. Bake until the cheese is melted, about 12 minutes.
Bake Broccoli & Ciabatta:
While the meatballs are baking, place broccoli on a lined baking tray, drizzle with olive oil and season with salt and pepper. Toss well to coat and add to the oven. Add ciabatta roll directly on a wire rack in the oven and bake until crusty on the outside and steaming hot on the inside, 10 - 12 minutes.
You Plate It:
Divide cheesy baked meatballs between plates and serve with broccoli. Thickly slice ciabatta and serve on the side to soak up that sauce. Enjoy!