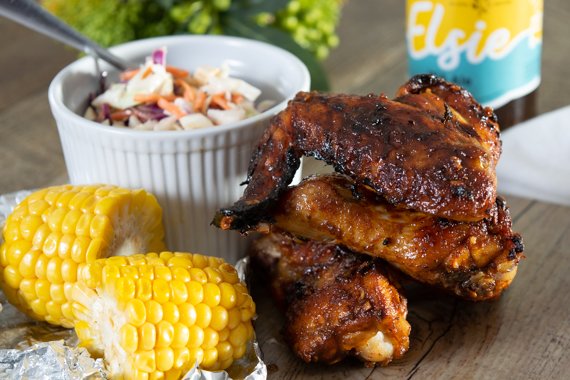 Baked Buffalo Wings with Slaw & Buttered Corn
Prep time:

45

minutes

Calories: 700
Sticky buffalo chicken wings make a great meal for the whole family, get as messy as you wish and use your fingers. We've skipped the classic 'deep fry' stage on these buffalo wings and added some slaw and baked corn to keep it a bit healthier. Share the moment #youplateit with us on Instagram and Facebook. (Note: We've also kept the hot sauce separate so you can make them as spicy (or not) as you wish 😉 ).
Ingredients
600 Grams of Chicken Wings

2 Garlic Clove

95 Grams of YPI Buffalo Wing Marinade

1 Tablespoons of Sriracha Sauce

1 250 Gram Pack of Coleslaw Veg (Chopped)

40 Grams of Mayonnaise

1 Sweet Corn Cob

1 Tablespoons of Butter (pantry)
Recipe
Marinate Wings:
Preheat oven to 200°C. Peel and mince garlic. In a large bowl mix garlic, 1 TBS olive oil, YPI buffalo wing marinade and a couple of cracks of black pepper. Add Sriracha to taste (you can always add more after they are cooked). Add the chicken wings and toss to fully coat in the marinade. Set aside for 10 minutes. (Note: If you have time, marinate for a couple of hrs in the fridge or overnight to really boost the flavour).
Cook Wings:
Reserving excess marinade, arrange chicken wings in a single layer on a lined baking tray (using 2 if necessary) and roast 22 minutes, or until lightly browned. Remove tray from the oven and pour off excess oil/fat. Add reserved marinade to wings and return to the oven for a further 10-12 minutes until browned and cooked through.
Bake Corn:
Remove and discard the husks and silks of the corn; cut in half or into 4 pieces. Cut foil large enough to hold corn, top with butter, then seal edges to form a parcel. Add wrapped corn to the oven and bake for 15 minutes.
Mix Coleslaw:
In a bowl combine coleslaw veg and mayonnaise and mix well. Check seasoning, adding salt and pepper if necessary.
You Plate It:
Divide chicken wings between plates and serve coleslaw and buttered corn alongside. Use those fingers and tuck in, enjoy!