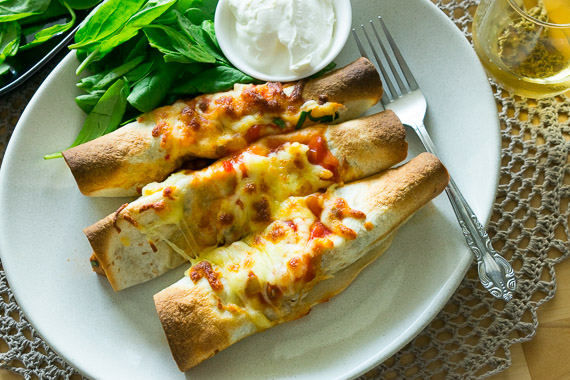 Baked Chicken Enchiladas with Tasty Cheese & Sour Cream
Prep time: 25
Calories: 700
The history of Enchiladas begins in Mexico, where the practice of rolling tortillas around meats and vegetables dates back to Mayan times. It was the Spanish conquistadors who coined the phrase, but the popularity of this iconic recipe has not diminished over nearly 2,000 years of cooking. In this recipe, the tortilla traps the flavour of chicken and spices. #youplateit
Ingredients
1 75 Gram Pack of Baby Spinach

1 6-Pack of Flour Tortillas

2 Chicken Breast

1 Tablespoons of Chicken Enchilada Spice Mix

1 400 Gram Pack of Red Kidney Beans

1 Cups of Tomato Salsa

0.5 Cups of Tasty Cheese (grated)

0.5 Cups of Sour Cream
Recipe
Prepare Ingredients:
Preheat oven to 200°C. Roughly chop half the spinach then add to a large bowl reserve the remainder for step 6. Warm tortillas as per packet instructions.
Brown Chicken:
Pat dry chicken with paper towel then cut into 2 cm cubed pieces. Place chicken and spice mix into a bowl and toss to thoroughly coat. In a medium pan over medium heat, add oil. When oil is shimmering, add the diced chicken and season with salt and pepper. Cook, until browned, about 6-8 minutes. Taste and add more salt and pepper, only as needed.
Make Filling:
Drain and rinse the red kidney beans. Transfer chicken to a chopping board then cut in half or shred with 2 forks. Add to the large bowl with chopped spinach. Add half the salsa, and the red kidney beans then stir to combine.
Assemble Enchiladas:
Lay tortillas flat on a clean dry surface. Divide filling evenly among tortillas. Fold sides around tightly to create cylinders. Transfer seam-side down to a medium baking dish, arranging in a single layer.
Bake Enchiladas:
Spoon remaining salsa in a line across the top of the enchiladas. Sprinkle over the cheese. Bake until cheese is melted and enchiladas are warmed through, 8-10 minutes.
You Plate It:
Divide enchiladas evenly between plates. Season to taste. Serve with remaining spinach and sour cream on the side. Enjoy!