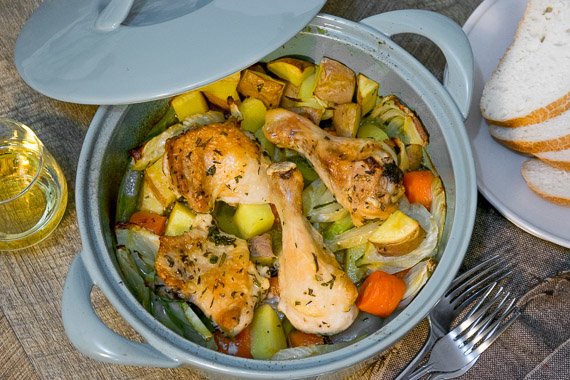 Baked Chicken & Fennel with White Wine & Rosemary
Prep time:

45

minutes

Calories: 740
For this recipe, you will prepare a delicious marinade with rosemary, parsley, parmesan and a little white wine. Adding chicken, potato, carrot and a little fennel, it's then a simple task of adding it to the oven and waiting. It takes a little longer than our standard recipes but we think it is well worth the wait! Share the moment #youplateit on Instagram.
Ingredients
2 Chicken Thighs (skin on) & Drumsticks

2 Red Potatoes

1 Fennel (small)

1 Carrot

100 Grams of White Wine

1 Small Bunch of Flatleaf Parsley

2 Stalk of Rosemary

0.25 Cups of Parmesan Cheese

1 White Knot Roll
Recipe
Prepare Ingredients:
Preheat oven to 220°C. Wash the fresh produce. Cut potatoes into 1 cm dice and carrot into 2 cm dice. (Tip: cutting the potato into smaller pieces will ensure it is cooked through in time). Thinly slice the white part of the fennel into ½ cm slices.
Prepare Marinade Ingredients:
Finely chop the rosemary leaves, discarding stems. Roughly chop parsley leaves, discarding stems.
Finish Marinade:
In a large baking dish, add parmesan, white wine, chopped rosemary, about 1 tablespoon parsley, ¼ cup olive oil, 1 teaspoon salt and cracked pepper. Stir to combine.
Add Chicken:
Pat chicken dry with paper towel. Add chicken to marinade, coating all sides.
Add Vegetables:
Add sliced fennel, potatoes, carrots to marinade. Bring chicken to the top, skin side up.
You Plate It:
Cover baking dish with a lid (or tightly with foil) then place in the oven and cook for 20 minutes. After 20 minutes, increase heat to 250°C, then carefully remove lid/foil and cook for another 15 minutes until the chicken is nicely browned and the potatoes are crispy. Serve with bread alongside to soak up the remaining liquid. Season to taste. Enjoy!