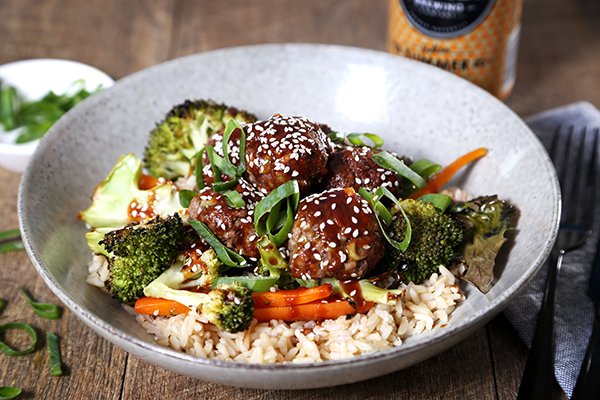 Baked Japanese Meatballs & Brown Rice with Charred Broccoli & Carrot
Prep time: 40
Calories: 350
This recipe may take a little longer than some of our others but once its on, it's just a matter of cleaning up and setting the table. Easily cooked, most of the time in this one is cooking the brown rice. Healthy and gluten-free, this is a perfect meal that will leave you and the family satisfied.
Ingredients
300 g of Beef Mince

170 g of Broccoli

1⁄2 Cup of Brown Rice

2 Tsp of White Sesame Seeds

100 g of Japanese Meatball Sauce

1 of Garlic Clove

2 of Spring Onion

1 of Ginger

1 of Carrot

1 Tsp of Sesame Oil
Recipe
Cook Rice:
Preheat oven to
200°C.
In a medium pot, combine the
rice,
a big pinch of salt and
11⁄2
cups of water. Heat to boiling on high. Once boiling, cover and reduce the heat to low. Simmer 28-30 minutes, or until the water has been absorbed and the
rice
is tender. Season with salt and pepper to taste. Set aside.
Prepare Ingredients:
Peel and mince
garlic
and
ginger.
Trim
carrot
and cut into batons. Trim
spring onion
,
finely dice white/light green
part and
thinly slice green
ends. Cut
broccoli
into florets and slice
stem
into 5mm thickness.
Heat Sauce:
Combine
meatball sauce
(
reserving 2 Tbsp
of
sauce
aside) with
1⁄2
of the
ginger
and
3 Tbsp water
in a small pot over medium heat. Bring to a simmer for 1-2 minute to infuse and then take off the heat.
Make Meatballs:
In a bowl combine
beef mince, remaining ginger, garlic, sesame oil
(to taste),
finely diced spring onion
, salt and pepper. Using your hands, mix well and form into equal sized
meatballs,
about 4-5 per person.
Bake Meatballs & Veg:
Spread
broccoli
and
carrot
around the edges of a lined baking tray. Drizzle with a little oil and season with salt and pepper. Place
meatballs
in the centre of the tray and brush with
reserved meatball sauce
. Cook in oven for 15 minutes, then glaze
meatballs
once more and cook a further 5 minutes, until
veg
has charred and
meatballs
are browned.
You Plate It:
Divide
brown rice
between bowls and top with
meatballs
and
veg.
Drizzle warmed
sauce
over the top and garnish with
sesame seeds
and slice
green spring onion ends
. Enjoy!