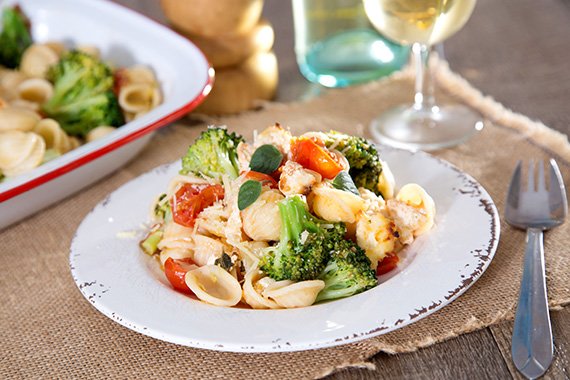 Baked Ricotta & Tomato Orecchiette & Fresh Oregano - Inspired by Jamie Oliver
Prep time: 20
Calories: 530
Creamy ricotta, crunchy broccoli and pops of roasted tomatoes tossed through orecchiette pasta – this is a true Mediterranean dish that you'll absolutely love. As well as being low in saturated fat compared to most other cheeses, ricotta is also high in calcium, a nutrient that many of us don't get enough of but is vital in keeping our teeth and bones strong. The mix of ricotta, basil and cherry tomatoes works really well with orecchiette pasta and its ear shaped pasta shells. #youplateit
Ingredients
2 Garlic Clove

250 Grams of Cherry Tomatoes

1 Small Bunch of Oregano

200 Grams of Orecchiette Pasta

1 Teaspoons of Chili Flakes

80 Grams of Ricotta (Firm)

1 Lemon

2 Tablespoons of Parmesan (Shredded)

0.5 Broccoli
Recipe
Prepare Ingredients:
Preheat oven to 190°C. Wash the fresh produce. Bring a large pot of water to a boil over high heat. Peel and thinly slice garlic. Zest lemon and cut into quarters. Halve tomatoes. Tear oregano leaves, discarding stems. Cut broccoli into bite size florets.
Bake Ricotta & Tomatoes:
In a ovenproof dish, combine tomatoes, ricotta, garlic, chili flakes (add to taste), oregano and 2 TBS olive oil. Season with salt and pepper and mix well. Add lemon wedges and bake in the oven for 20 - 22 minutes, until tomatoes have blistered and ricotta is golden.
Cook Pasta & Broccoli:
Add pasta and a generous pinch of salt to a pot of boiling water. Cook until al dente, 10 - 12 minutes or until cooked to your liking. Add broccoli florets for the last 3 minutes of cooking. Drain and set aside.
Season Pasta:
Turn oven off and remove dish from oven. Using tongs, carefully squeeze lemon wedges over tomatoes and ricotta.
You Plate It:
Add cooked pasta, broccoli and lemon zest to the tomatoes and ricotta. Toss well to combine, check seasoning and garnish with parmesan and any remaining lemon wedges. Enjoy!