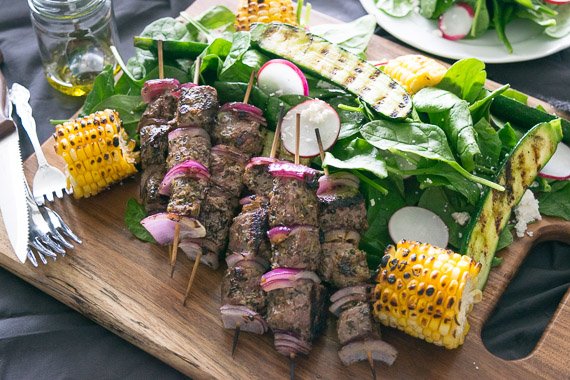 Barbequed Lamb Skewers & Corn with Fetta, Zucchini & Spinach
Prep time:

25

minutes

Calories: 515
Cooking tip: This recipe can benefit from extra time marinating the meat. You can marinate the lamb for up to 1 day covered and refrigerated. But don't worry, it's not essential and in less than 30 minutes you'll have a super tasty dinner on the table. Enjoy!
Ingredients
0.16 Kilos of Baby Zucchini

1 Small Bunch of Oregano

1 Garlic Clove

300 Grams of Diced Lamb Steak

1 Red Onion

1 75 Gram Pack of Baby Spinach

3 Radish

40 Grams of Fetta Cheese

6 Wooden Skewers 6"

1 Sweet Corn Cob
Recipe
Prepare Lamb:
Turn on the BBQ (if using, alternatively turn on the oven to 220°C). Wash the fresh produce. Pick oregano and roughly chop (discarding stems). Peel and mince garlic. In a large bowl combine 3 TBS olive oil, roughly chopped oregano and crushed garlic. Season. Transfer half the mixture to a separate small bowl (to dress the salad). Add lamb to the first bowl and marinate at room temperature for at least 20 minutes, to enhance the flavour of the lamb.
Roast Corn & Prepare Onion:
Cut the corn into 4 equal pieces. Add to BBQ (or oven, wrapped in foil) and roast for about 15-20 minutes, turning every 5 minutes or so to avoid burning. Cut the red onion into 2-3 cm pieces.
Prepare Zucchini:
Cut the zucchini into 1½ cm wedges. Toss with olive oil. Season with salt and pepper.
Prepare Salad:
Thinly slice or shave the radishes (use a mandolin if you have one). Add the baby spinach, sliced radishes to a large bowl.
Prepare Skewers
Add the lamb pieces evenly between the skewers, threading the onion rounds between the lamb as tightly as possible. Season generously with salt. Cook on BBQ grill, turning to brown evenly, for about 5-6 minutes or until cooked to your liking. Transfer to a platter to rest. While the lamb skewers are resting, add zucchini to the grill and cook, for about 2 minutes, or until tender. Transfer cooked zucchini to the salad.
You Plate It:
Crumble fetta over the salad and add as much reserved dressing as desired. Divide salad buttered corn and lamb skewers between plates. Enjoy!