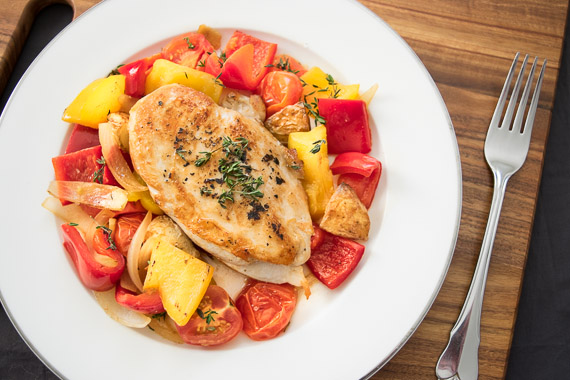 Basque Chicken with Yellow & Red Capsicum & Roasted Chat Potatoes
Prep time: 35
Calories: 640
The Basque region of northern Spain is fiercely independent and has a rich and unique culinary history. One interesting feature of the region is the strong involvement of men in cooking and gastronomic societies. For this recipe, why not get the nearest man to plate this tasty dish. Remember to tell him to read all the steps before starting and share the moment he plates it #youplateit
Ingredients
1 Red Capsicum (small)

1 Yellow Capsicum

1 Brown Onion

2 Garlic Clove

1 Tomato

1 Small Bunch of Thyme

400 Grams of Baby Potatoes

2 Chicken Breast (skin on)

0.5 Cups of White Wine
Recipe
Prepare Ingredients:
Preheat oven to 180°C. Wash the fresh produce. Halve capsicums lengthwise, discarding seeds, then cut into 2 cm dice. Peel onion and thinly slice. Thinly slice garlic. Medium dice tomatoes. Pick thyme leaves, discarding stems.
Brown Chicken:
Pat dry chicken with paper towel. Season both sides with salt and pepper. Heat olive oil in a large ovenproof high-sided pan over medium-high heat. When oil is shimmering, add chicken skin-side down and cook until browned on outside, about 4 minutes per side.
Roast Potatoes:
While chicken browns, on a lined baking tray, toss potatoes with olive oil, salt, and pepper. Arrange in a single layer and roast until tender, checking after 20 minutes. Cook until golden.
Cook Vegetables:
Remove chicken from pan, cover to keep warm, then set aside. Reduce heat to medium low. Add capsicum, onion, and garlic to pan and cook until softened, about 7 minutes. Add tomatoes and thyme; cook until tomatoes releases juice, about 3 minutes. Add white wine and cook until liquid has reduced slightly, 2-3 minutes more.
Braise Chicken:
Return chicken to pan skin-side up over vegetables. Cover pan and transfer to oven. Braise until chicken is cooked through, about 13-15 minutes.
You Plate It:
Divide chicken and vegetables evenly between plates. Serve with roasted potatoes alongside. Enjoy!