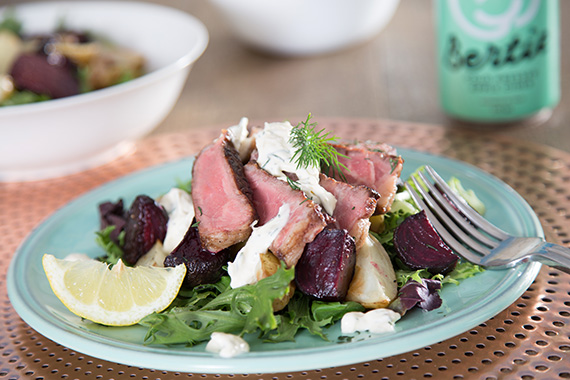 Beef, Beets & Potato Mixed Lettuce & Horseradish Dressing
Prep time:

35

minutes

Calories: 550
Fun Fact: Horseradish is a perennial plant of the Brassicaceae family which also includes mustard, wasabi, broccoli, and cabbage. It is a root vegetable used as a spice. Combined in this recipe with some earthy beetroot, dill and quality beef and you have yourself a delicious meal. We recommend pairing this with a South West cab sav or robust rosè. Enjoy!
Ingredients
350 Grams of Porterhouse Steak (Thick-Cut)

200 Grams of Baby Red Beetroot

300 Grams of Baby Potatoes

1 Small Bunch of Dill

0.25 Cups of Sour Cream

1 Tablespoons of Horseradish Cream

1 75 Gram Pack of Mixed Lettuce

1 Tablespoons of Balsamic Dressing

1 Lemon
Recipe
Prepare Veg:
Preheat oven to 180°C. Wash the fresh produce, making sure all sand is removed from beetroot. Dry off and quarter the potatoes and cut the beetroot into small wedges about 4 per half, so that potatoes and beetroot pieces are roughly the same size.
Roast Veg:
Season with salt and pepper and coat with olive oil. Spread potatoes and beetroot evenly on a lined baking tray and cook in the oven for 25 minutes, until tender.
Cook Steak:
Pat dry steak with paper towel. Season steak on both sides with salt. Heat olive oil in a pan over medium-high heat. When oil is shimmering, add steak and cook 2-3 minutes before flipping. Flip 3 times for a total cooking time of about 10-12 minutes or to your preferred doneness. Remove from pan set aside to rest.
Make Dressing:
Pick dill leaves and chop, discarding stems while reserving some leaves for garnish. In a small bowl combine sour cream, horseradish cream using as much or as little as desired and 1 tablespoon of chopped dill. Add in a squeeze of lemon juice, 1 tablespoon of water and mix well. Season with salt and pepper.
You Plate It:
Toss mixed lettuce with balsamic dressing and divide between plates. Top with roasted potatoes, beetroot and beef, sliced to your liking. Garnish with as much dill and horseradish dressing as you wish. Enjoy!