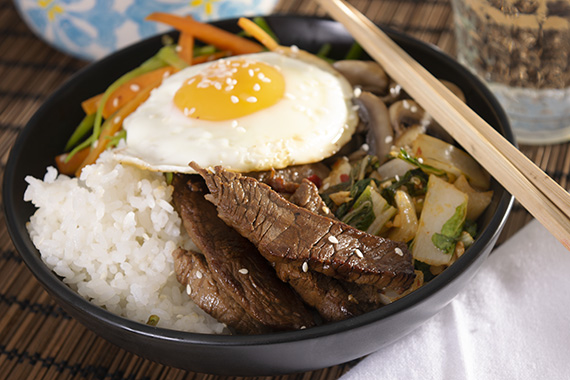 Beef Bibimbap with Fresh Local Vegetables and Sushi Rice
Prep time: 20
Calories: 730
Have you ever had Bibimbap? Bibim means 'mixing' and Bap means 'rice' in Korean. Tonight, we'll show you how to prepare it with local mixed vegetables, delicious thick-cut rump steak and a fried egg, all served on a bed of sushi rice. Instagram your plate #youplateit
Ingredients
0.75 Cups of Sushi Rice

0.25 cups of Soy Sauce

2 Tablespoons of Sesame Oil

2 Tablespoons of Rice Vinegar

1 Tablespoons of Brown Sugar

2 Garlic Clove

250 Grams of Rump Steak (Thick Cut)

1 Carrot

100 Grams of Snow Peas

130 Grams of Mushrooms

2 Egg (pantry)

0.25 Tablespoons of Sambal Oelek

0.25 Bunch of Buk Choy
Recipe
Cook Rice:
In a medium pot, bring sushi rice, 1¼ cups water, and a pinch salt to a boil over high heat. Stir once, cover, reduce heat to low, and cook for 12 minutes. Remove pot from heat and allow to stand, still covered, for 10 minutes. Uncover, fluff with a fork, and set aside.
Prepare Ingredients:
Meanwhile, combine soy sauce, half the sesame oil, rice vinegar, and brown sugar in a large bowl. Pat dry the beef with a paper towel and cut into 1½ cm thick stir fry strips. Add to bowl and coat. Set aside to marinate at room temperature for 15 minutes. Wash the fresh produce. Julienne carrot and snow peas Julienne: cut into long thin strips, similar to matchsticks. Roughly chop buk choy. Wipe mushrooms clean with a damp paper towel and cut into slices. Peel and mince garlic.
Cook Vegetables:
Heat a non-stick pan over medium-high heat. When pan is just smoking, add mushroom and cook until mushrooms are browned, about 2 minutes. Reduce heat to medium and continue to cook, stirring, until softened. Set aside on a plate and cover to keep warm. Using the same pan and a little more oil, sautè carrot and snow peas until just tender, about 4 minutes. Set aside on same plate as mushrooms. Finally, add 1 tsp sesame oil, add buk choy, garlic and sambal to taste and cook for 2-3 minutes, until wilted. Set aside on plate.
Cook Steak:
Heat pan to medium-high heat. Remove beef from marinade, allowing excess to drip off. When pan is just smoking, add beef and sear until browned on outside and medium rare, about 1-2 minutes per side. Remove from pan, allow to rest for 5 minutes. Tip: cook in batches to ensure the meat doesn't stew and toughen.
Fry Eggs Optional:
Heat oil over medium heat. When oil is shimmering, carefully crack eggs into pan. Season with salt and pepper. Cook without moving until whites are set but yolks are still runny, 2-3 minutes. Transfer to a plate and set aside.
You Plate It:
Serve family-style in a large bowl or individual bowls with high sides adding rice, carrot, snow peas, mushrooms, buk choy, and topped with sliced beef and optional fried eggs. Mix ingredients to eat. Enjoy!