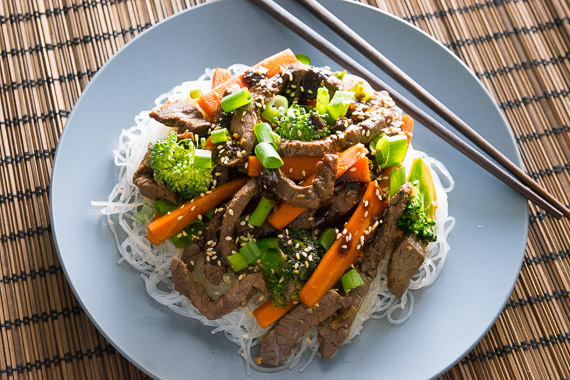 Beef & Broccoli Stir-Fry with Vermicelli Noodles
Prep time: 25
Calories: 675
This is the best tasting, easy to cook beef and broccoli stir-fry we've ever cooked! Marinating the beef for as long as possible will get maximum flavour into the beef, so plan ahead if you have time, but even a short marinade will give a delicious fresh flavour. Don't forget to share the moment #youplateit on Instagram.
Ingredients
300 Grams of Rump Steak (Thick Cut)

1 Broccoli (small)

2 Spring Onion

2 Garlic Clove

2 Tablespoons of Brown Sugar

1 Ginger

1 Carrot

150 Grams of Rice Vermicelli Noodles

1 Tablespoons of White Sesame Seeds

0.33 Cups of Soy Sauce (GF)
Recipe
Prepare Ingredients:
Wash the fresh produce. Peel and mince the garlic and ginger. In a bowl, add the brown sugar, soy sauce, garlic and half the ginger; stir to combine until sugar has dissolved. Pat dry the beef with a paper towel and cut into 1 cm thick stir fry pieces, then place in a bowl and add half the marinade; toss to thoroughly coat. Let stand as you continue cooking or up to 30 minutes. Cut the broccoli into bite size florets. Thinly slice the spring onions, separating the white bottoms and green tops. Peel and cut the carrot into thin matchsticks.
Soak Noodles:
Bring about 1½ litres water to a boil in a large pot or kettle over high heat. Place vermicelli in a large bowl and pour over boiling water, making sure to submerge the noodles in hot water. Soak until tender, about 5 to 6 minutes, then drain and rinse under cold water for 30 seconds. Set aside in a large bowl.
Toast Sesame Seeds:
In a large non-stick pan, toast the sesame seeds on medium, stirring frequently, 2 to 3 minutes, or until lightly browned. Transfer the toasted sesame seeds to a bowl and set aside. Wipe out the pan.
Cook Beef:
Heat the same pan on medium-high. Add oil and then carefully add the marinated beef including marinade. Cook, stirring occasionally, 2 to 3 minutes, or until just cooked through. Transfer the cooked beef to a plate keeping covered and warm, leaving any drippings in the pan.
Cook Vegetables:
Add oil to the pan and heat on medium until hot. Add the carrot and broccoli. Cook, stirring occasionally, 3 to 4 minutes, or until slightly softened. If the pan looks dry, add a couple more teaspoons of oil or water. Add the remaining ginger, white parts of the spring onions and remaining marinade. Cook 1 to 2 minutes, or until slightly softened and fragrant.
You Plate It:
Add the cooked beef including any juices on the plate. Increase the heat to medium-high, cook for about 1 minute, or until well combined and heated through. Transfer the cooked beef and vegetables to a plate, leaving the remaining sauce in the pan. Increase the heat to thicken sauce, until desired consistency is reached. Divide the stir fry and vermicelli between plates. Garnish with the green parts of the spring onions, toasted sesame seeds and remaining sauce. Enjoy!