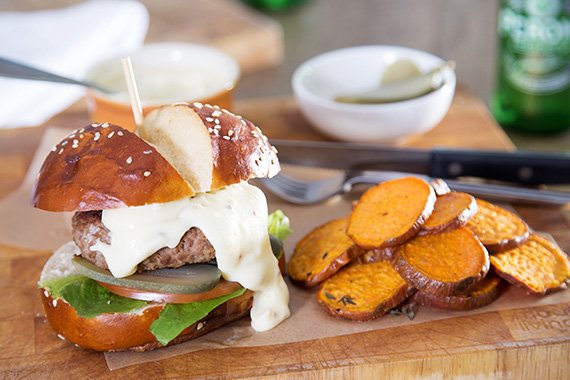 Beef Burgers on Pretzel Buns with Cheddar Sauce & Roasted Sweet Potato Rounds
Prep time:

25

minutes

Calories: 700
To make this burger recipe a little special you will make a tasty cheese sauce and use the unique pretzel bun. Our pretzel buns are freshly baked by the Little Home Bakery in Morley. Served with sweet potato rounds we'd love to see the moment #youplateit on Facebook or Instagram.
Ingredients
60 Grams of Tasty Cheese (grated)

2 Pretzel Burger Buns

1 Small Bunch of Thyme

1 Pickles

350 Grams of Sweet Potato (small)

300 Grams of Beef Mince

3 Tablespoons of Panko Bread Crumbs

1 Tablespoons of Butter (pantry)

1 Tablespoons of Plain Flour

0.5 Cups of Milk (pantry)

1.5 Tablespoons of Whole Grain Mustard

0.5 Baby Cos Lettuce

1 Tomato (small)
Recipe
Prepare Ingredients:
Preheat the oven to 200°C. Wash the fresh produce. Slice the burger buns in half lengthwise. Pick the thyme leaves; discarding stems. Slice pickle lengthwise. Slice tomato into rings and roughly tear lettuce leaves. Thinly slice the sweet potato in to ½ cm thick rounds.
Bake Sweet Potatoes:
On a lined baking tray, season the sweet potato with salt and pepper, and enough olive oil to thoroughly coat. Arrange in a single layer and bake for about 15 minutes or until browned. Remove from oven and sprinkle with thyme.
Make Burger Patties:
While the sweet potatoes roast, in a large bowl, combine the beef and breadcrumbs. Season with salt and pepper and mix thoroughly to combine. Divide to form 2 equal patties. Set aside.
Make Cheese Sauce:
In a small pot, completely melt the butter on medium heat. Add the flour, whisking constantly, 1-2 minutes, or until golden. Slowly whisk in the milk. Bring to a simmer and cook, stirring frequently, 1-2 minutes or until thickened. Reduce the heat to low, slowly add the cheese and cook, whisking constantly, 30 seconds to 1 minute, or until the sauce is smooth and lumps are removed. Remove from heat and season to taste with salt and pepper (TIP: you can add in half of the mustard at this point - it is up to you) . Set aside in a warm place.
Cook Burgers:
Heat olive oil in a large non stick pan on medium until hot. Add the burger patties and cook for about 3-4 minutes per side for medium, or to your preferred doneness. (You can check the doneness by cutting a small slit in 1 of the burgers.) Transfer the burgers to a plate, leaving any drippings in the pan, and let rest for at least 5 minutes.
You Plate It:
In the same pan, on medium-high heat, place the pretzel buns, cut side down, toast until slightly browned and warmed. Spread mustard onto the bottom of each bun. Lay a burger on top and divide the cheese sauce onto each patty. (If necessary, reheat the cheese sauce with a little more milk on low.) Top with lettuce, sliced tomato and pickle. Serve with the sweet potato rounds on the side. Enjoy!