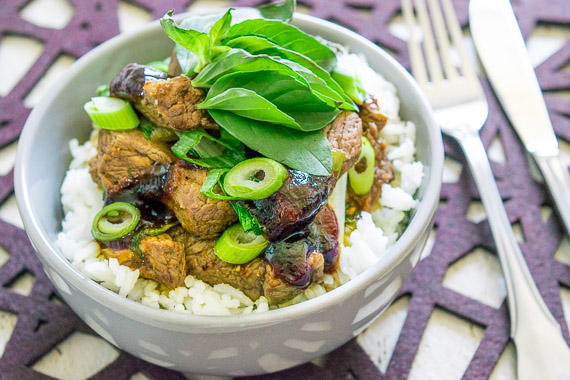 Beef & Ginger Stir Fry with Pak Choy & Jasmine Rice
Prep time: 20
Calories: 520
Hoisin sauce also Chinese barbecue sauce is a thick, pungent sauce commonly used in Chinese cuisine as a glaze for meat, an addition to stir fries, or as dipping sauce. It is darkly coloured in appearance and sweet and salty in taste. Although regional variants exist, hoisin sauce usually includes soy, red chilies, and garlic. In this superfast recipe, we mix half of the hoisin into the stir fry and spoon the rest over the finished product for an elegant finish.
Ingredients
1 Cups of Jasmine Rice

0.5 Bunch of Pak Choy

2 Spring Onion

2 Garlic Clove

1 Small Bunch of Thai Basil

1 Ginger

300 Grams of Rump Steak (Thick Cut)

0.25 Cups of Hoisin

2 Tablespoons of Soy Sauce
Recipe
Cook Rice:
In a medium pot, bring 2 cups water to a boil. Stir in the rice; cover and reduce the heat to low. Simmer for 15 minutes until all of the water is absorbed. Taste the rice; if it is still too firm, add a few more tablespoons of water. Cover the pot and let the rice absorb the water off of the heat. Fluff the finished rice with a fork.
Prepare Ingredients:
While the rice cooks, wash the fresh produce. Cut the pak choy into bite-sized pieces. Slice the spring onions. Pick the Thai basil leaves off the stems. Peel and mince the ginger and garlic. Pat dry the beef with a paper towel and cut into 1½ cm thick, stir fry strips.
Stir Fry Beef:
In a large pan, heat oil on high until hot. Tip: Cook in batches if required Add the beef; cook 2-4 minutes, or until browned, stirring occasionally. Transfer the beef to a plate, leaving behind any juices in the pan. Note: Remember not to add too much beef at once as this will reduce the temperature of the pan too much, and the meat will stew and become tough.
Add Aromatics & Sauces:
In the same pan, add a little more oil and heat it on medium-high. Add the garlic and ginger; cook for about 30 seconds, or until fragrant. Stir in the half the spring onions, pak choy, soy sauce, half the Thai basil and ¾ of the hoisin. Cook 2-4 minutes, or until the vegetables are softened and coated in the sauce. Add the cooked beef back to the pan and cook about 1 minute, stirring until heated through and coated in the sauce. Remove from heat. Add salt and pepper to taste.
You Plate It:
Divide the rice between plates. Top with the beef and pak choy stir fry. Garnish with remaining Thai basil, hoisin and spring onions. Enjoy!