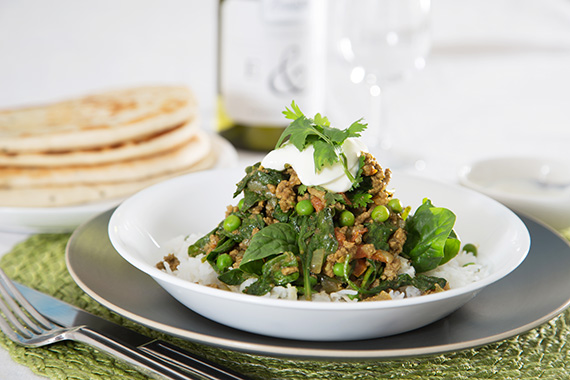 Beef Keema with Peas, Spinach & Rice
Prep time: 25
Calories: 470
We've used beef mince, spinach, frozen peas and fragrant spices to make this easy Indian-style curry. The peas add a lovely pop of sweetness and colour. Serve with rice or naan breads for a healthy weeknight dinner. Enjoy with a cold cider and share your moment on Instagram with #youplateit.
Ingredients
1 Brown Onion

2 Garlic Clove

2 Teaspoons of Keema Spice Mix

1 Ginger

300 Grams of Beef Mince

3 Tomato

100 Grams of Peas

1 75 Gram Pack of Baby Spinach

50 Grams of Greek Yoghurt

1 Small Bunch of Coriander

0.75 Cups of Basmati Rice
Recipe
Prepare Ingredients:
Wash the fresh produce. Finely dice ¾ onion you only need ¾ for this recipe and mince garlic and ginger. Dice tomatoes, and set aside.
Cook Rice:
In a pot, bring 1½ cups water to a boil. Stir in the rice; cover with a lid and reduce the heat to low. Simmer for 15 minutes until all of the water is absorbed. Taste the rice; if it is still too firm, add a few more tablespoons of water. Cover the pot and let the rice absorb the water off of the heat. Fluff the finished rice with a fork and set aside covered to keep warm.
Cook Onions & Spices:
Meanwhile, heat a little oil in a pot over medium heat. Add onion, garlic and ginger and sauté for 4 minutes. Add spice mix and continue cooking for another 3 minutes.
Brown Mince:
Add mince, breaking up with a wooden spoon and cook over medium-low heat for 8 minutes, until browned. Add tomatoes and ¼ cup of water, cover and simmer for 15 minutes. Season with salt and pepper.
Add Peas & Spinach:
Add peas and spinach and cook for another 4 minutes, until spinach has wilted and peas are bright green. Pick coriander leaves and stir through mince before serving, reserving some leaves for garnish.
You Plate It:
Divide rice between serving plates/bowls. Top with curry and garnish with yoghurt and coriander leaves. Enjoy!