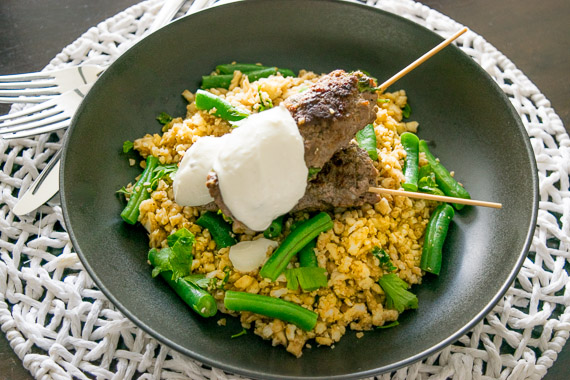 Beef Kofta Kebabs with Garlic Sauce, Green Beans & Cauliflower 'Couscous'
Prep time: 30
Calories: 560
For this recipe, you'll prepare a beef kofta mixed with 7 different kinds of spice. The first time we smelled this recipe we knew we had to include it on our menu. With a healthy serve of cauliflower and green beans, this recipe is healthy and will guarantee you eat your vegetable quota for the day. Happy cooking! Share your moment on Instagram at #youplateit #nomorewhatsfordinner
Ingredients
2 Garlic Clove

1 Small Bunch of Flatleaf Parsley

0.5 Cauliflower

300 Grams of Beef Mince

2 Tablespoons of Beef Koftas Spice Mix

4 Wooden Skewers 6"

100 Grams of Greek Yoghurt

200 Grams of Green Beans
Recipe
Prepare Ingredients:
Wash the fresh produce. Mince the garlic, smashing until it resembles a paste. Pick parsley leaves; discarding stems, then roughly chop the leaves. Trim and discard the stems of the green beans; cut the beans into 3-4 cm pieces. Remove and discard the core of the cauliflower, then finely chop using a food processor or a knife.
Make Beef Skewers:
In a medium bowl, combine the beef mince, spice mix reserving ½ Tablespoon for the couscous, half the garlic paste, half the parsley and two big pinches of salt and pepper. Mix until well combined. Shape into 4 long patties. Insert wooden skewer into the centre of each end. Lightly drizzle with olive oil.
Cook Beef Skewers:
In a large high sided non-stick pan or pot, heat olive oil on medium until hot. Working in batches if necessary, add the skewers and cook about 3 minutes per side, or until they reach your desired degree of doneness. Transfer to a plate and let rest at least 5 minutes. Bring a medium pot of water to a boil over high heat.
Make Yoghurt Sauce & Cook Green Beans:
While the beef cooks, in a small bowl, stir together yoghurt and the remaining garlic or to taste. Taste and add salt and pepper as needed. Set aside. Add beans and a generous pinch of salt to the pot of boiling water. Blanch until bright green, about 1 to 2 minutes or to your liking, then remove and set aside.
Cook Cauliflower 'Couscous':
In the same pan used to cook the beef, add cauliflower, remaining spice mix and up to ½ cup water. Cook, stirring occasionally, for 3 to 5 minutes, or until the cauliflower has softened and the water is absorbed and is cooked to your liking. Season with salt and pepper. Stir in remaining parsley.
You Plate It:
Divide the couscous, green beans and skewers between dishes. Serve with yoghurt sauce. Enjoy!