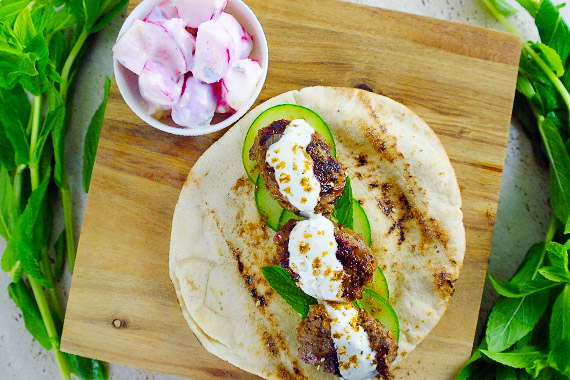 Beef & Lamb Shawarma with Creamy Radish Salad
Prep time: 20
Calories: 700
Shawarma is a style of preparing and cooking meat famous in East Mediterranean cuisine. It involves the meat being spiced and then grilled on a rotating spit for as long as a day. In our home kitchen version you will quickly prepare a delicious mix of beef and lamb and combine with fresh Lebanese style bread and a radish salad. Bil hana!
Ingredients
300 Grams of Beef and Lamb Mince

1 5 Pack of Pita Bread

0.5 Cups of Greek Yoghurt

230 Grams of Radish

2 Garlic Clove

1 Lemon

1 Lebanese Cucumber

1 Red Onion

1 Small Bunch of Mint

2 Tablespoons of YPI Shawarma Spice Mix

1.5 Tablespoons of Sun Flower Seeds
Recipe
Prepare Ingredients:
Preheat the oven to 200°C. Wash the fresh produce. Trim and discard the radish stems; cut into bite-sized wedges. Peel and mince the garlic; using the flat side of your knife, smash until it resembles a paste. Using a peeler, remove lemon rind; mince to get 2 teaspoons of zest. Quarter the lemon. Thinly slice cucumber. Peel and small dice the onion. Pick the mint leaves; discarding stems.
Cook Aromatics:
In a large non-stick pan, heat olive oil on medium until hot. Add as much of the onion as desired, ¾ of the garlic paste and ¾ of the spice mix; season with salt and pepper. Cook, stirring frequently, 3 to 4 minutes, or until the onion and garlic have softened and the spice mix is fragrant. Remove from heat; transfer to a large bowl. Wipe out the pan.
Form & Cook Patties:
Add the beef and lamb mince to the bowl of aromatics; season with salt and pepper. Gently mix until just combined. Form the mixture into 6 oval-shaped patties. Working in batches if necessary, in the same pan, heat olive oil on medium-high until hot. Add the patties and cook 2 to 3 minutes per side, or until browned and cooked through. Remove from heat and set aside in a warm place.
Make Yoghurt Sauce:
Meanwhile, in a medium bowl, combine the Greek yoghurt, lemon zest, remaining garlic paste, the lemon juice to taste and half the mint chopping or tearing just before adding. Season with salt and pepper to taste; set aside
Make Salad:
In a large bowl, combine the radishes, sunflower seeds, half the yoghurt sauce and all but a pinch of the remaining spice mix; toss to coat. Season with salt and pepper to taste.
You Plate It:
Carefully place the pitas directly onto the oven rack. Toast 2 to 3 minutes, or until warm and pliable. Remove from the oven. Divide the cucumber, remaining mint, cooked patties and remaining yoghurt sauce between the warmed bread. Place each finished bread on a plate. Serve with radish salad on the side, garnishing with the remaining spice mix. Enjoy!