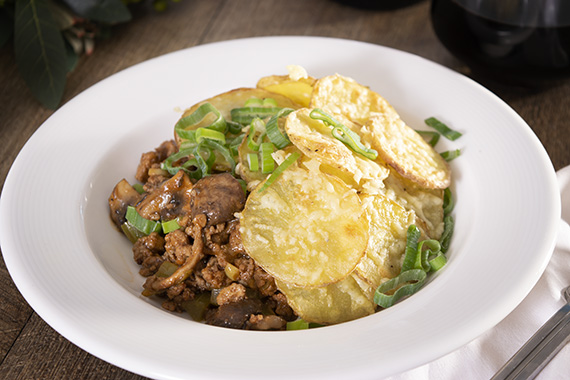 Beef & Lamb Stew with Parmesan Low Carb Potatoes
Prep time: 40
Calories: 640
This dish is inspired by the rich, complex flavour of shepherd's pie, a hearty meat stew with potato crust. We're using lamb and beef with vegetables like mushrooms, celery and an aromatic spice blend with garlic powder, fennel seed and thyme. Instead of mashed potatoes, we're topping our stew with thin slices of roasted potato and nutty parmesan cheese. To make it entirely guilt free, we have used
Low Carb
potatoes! Enjoy! #youplateit
Ingredients
300 Grams of Beef and Lamb Mince

100 Grams of Swiss Brown Mushrooms

1 Stalk of Celery

2 Low Carb Potatoes (Select)

2 Spring Onion

2 Tablespoons of Parmesan (Shredded)

1.5 Tablespoons of Tomato Paste

1 250ml Pack of Beef Stock

1 Tablespoons of YPI Stew Spice Blend
Recipe
Cook Potatoes:
Preheat oven to 180°C. Thinly slice potatoes into rounds. Add potatoes to a lined baking tray and toss with olive oil, salt and pepper to coat. Spread in a single layer and roast for 18-20 minutes, until brown and tender. Remove from oven and carefully top potatoes with parmesan. Return to the oven and roast for a further 4 - 6 minutes, until the cheese is lightly browned.
Prepare Ingredients:
While the potatoes roast, wash the fresh produce. Cut mushrooms into bite size pieces. Cut celery into 1 cm pieces. Thinly slice spring onion, separating the white bottoms and green tops.
Brown Mince:
In a large pan, heat olive oil enough to coat the pan over medium high heat. Add mince and cook, breaking into smaller pieces with a wooden spoon for 5 minutes, until browned and cooked through.
Add Vegetables:
Add the mushrooms, celery and white parts of spring onion to the pan and cook for 3 - 4 minutes, until lightly browned and softened.
Finish Stew:
Add the spice blend and tomato paste to the pan. Cook for 2 minutes, stirring occasionally. Add the beef stock. Continue to cook, stirring occasionally, scraping any browned bits from the bottom of the pan until thickened, about 6 minutes. Season with salt and pepper.
You Plate It:
Divide stew between plates. Top with parmesan potatoes and garnish with the green tops of the spring onions. Enjoy!