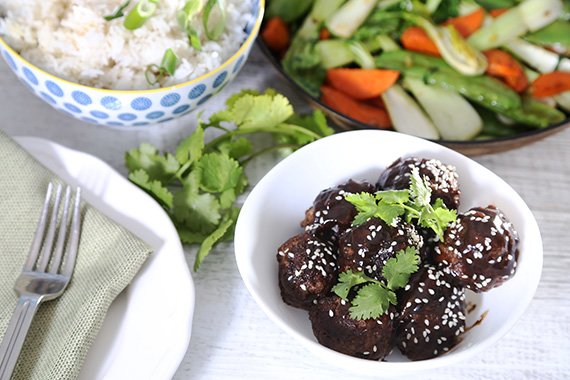 Beef Meatballs with Chinese Five Spice, Stir Fried Vegetables & Jasmine Rice
Prep time:

30

minutes

Calories: 500
In China, the simple meatball has been used and perfected over millennia with evidence of cooking dating all the way back to the Qin Dynasty in the 3rd Century BC! You will flavour the meatballs with five-spice powder and traditional aromatics before coating them in a sweet and savoury combination of sauces. Don't forget the sesame seeds for garnishing! Don't forget to share the moment on Facebook or Instagram #youplateit
Ingredients
250 Grams of Beef Mince

0.66 Cups of Jasmine Rice

120 Grams of Snow Peas

2 Garlic Clove

2 Spring Onion

1 Small Bunch of Coriander

2.5 Tablespoons of YPI Black Bean & Soy

1 Teaspoons of White Sesame Seeds

1 Teaspoons of Chinese Five-Spice

1 Ginger

20 Grams of Panko Bread Crumbs

1 Carrot

1 Pak Choy
Recipe
Prepare Ingredients:
Wash the fresh produce. Trim ends and remove the thin string from the snow peas. Peel and mince garlic and ginger. Cut off and discard the root ends of the spring onion; thinly slice, separating the white bottoms and green tops. Pick the coriander leaves; discarding stems. Peel carrot, cut in half length ways and thinly slice on an angle, 3mm thickness. Trim end off pak choy and cut length ways into quarters (discarding ends).
Cook Rice:
In a medium pot, bring 1⅓ cup water to a boil. Stir in the rice; cover and reduce the heat to low. Simmer for 15 minutes until all of the water is absorbed. Taste the rice; if it is still too firm, add a few more tablespoons of water. Cover the pot and let the rice absorb the water off of the heat. Fluff the finished rice with a fork.
Form & Brown Meatballs:
Add the white bottoms of the spring onion, half the garlic, half the ginger, breadcrumbs, beef mince and five-spice to a mixing bowl; season with salt and pepper. Mix until just combined. Using your hands, form the mixture into 8 - 9 meatballs. In the same pan, heat oil on medium-high until hot. Add the meatballs. Cook, stirring occasionally, 4 - 6 minutes, or until browned on all sides and cooked through. Turn off the heat. Carefully drain off and discard drippings.
Finish Meatballs:
Add the black bean & soy and ¼ cup of water to the pan of browned meatballs; stir to combine. Cook on medium-high, occasionally spooning the sauce over the meatballs, 3 - 5 minutes, or until sauce is slightly reduced in volume and the meatballs are thoroughly coated. Set aside meatballs. Wipe out the pan.
Cook Snow Peas:
In the same pan, heat oil on medium-high until hot. Add the carrot and cook, stirring occasionally for 4 minutes. Add snow peas, pak choy and remaining garlic and ginger. Cook a further 1 - 2 minutes, until veg is tender and season with salt and pepper. Transfer to a serving dish.
You Plate It:
Garnish the finished meatballs and cooked rice with the green tops of the spring onion. Divide rice, meatballs and vegetables between bowls and garnish with the coriander and sesame seeds. Enjoy!