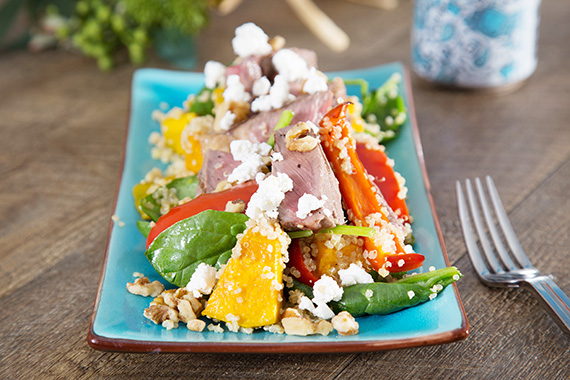 Beef & Quinoa Salad with Autumn Veg
Prep time: 35
Calories: 588
Just because the weather is starting to cool, doesn't mean you have to stop eating salads. This 'beefed' up salad pardon the pun is super healthy - quinoa and roasted veg combine with walnuts and tangy vinaigrette for some midweek deliciousness. Don't forget to share your moment on Instagram #youplateit.
Ingredients
300 Grams of Porterhouse Steak (Thick-Cut)

100 Grams of White Quinoa

400 Grams of Kent Pumpkin

1 Red Capsicum

25 Grams of Walnuts

1 Small Bunch of Thyme

2 Teaspoons of Red Wine Vinegar

1 75 Gram Pack of Baby Spinach

40 Grams of Fetta Cheese
Recipe
Prepare & Cook Veg:
Preheat oven to 190°C. Wash the fresh produce. Deseed both the capsicum and pumpkin. Remove and discard pumpkin skin, then cut into 1.5-2 cm pieces. Roughly slice capsicum into strips. Place veg on a lined baking tray. Drizzle with olive oil and season with salt and pepper. Roast until tender and browned, about 20-25 minutes.
Cook Quinoa:
Meanwhile, place quinoa into a fine sieve/colander and rinse well under cold water. Place quinoa in a pot with 1 cup of water and bring to the boil. Once boiling, reduce the heat and simmer for about 15 minutes or until all liquid has been soaked up and quinoa is tender and fluffy.
Cook Steak:
Pat dry steak with paper towel. Season both sides with salt. Heat olive oil in a large pan over medium-high heat. When oil is shimmering, add steak and cook 2-3 minutes before flipping. Flip 3 times for a total cooking time of 10-12 minutes or to your preferred doneness. Remove from pan and allow to rest.
Make Vinaigrette:
Coarsely chop walnuts and pick thyme leaves, discarding stems. In a small bowl, combine thyme leaves, red wine vinegar with 2 Tbs olive oil. Mix well.
You Plate It:
In a bowl, combine spinach, quinoa, roasted vegetables and walnuts. Toss with vinaigrette. Cut the steak as desired and serve on top of salad. Garnish with crumbled fetta. Enjoy!