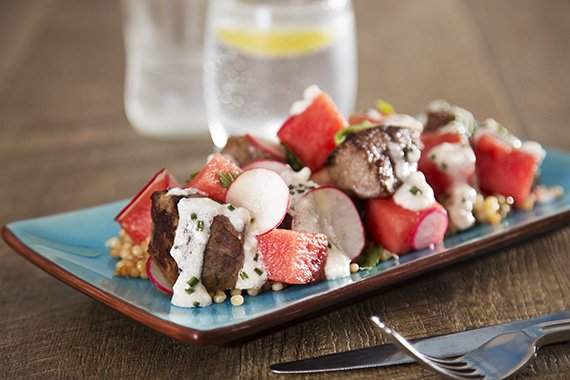 Beef with Watermelon, Israeli Couscous & Fetta-Sherry Vinaigrette
Prep time:

20

minutes

Calories: 750
Israeli couscous, also called pearl couscous, is made from wheat flour and has a low glycemic index, making it a healthy and high-fibre food. Teamed with some delicious beef, crunchy watermelon and sharp radish, this recipe has texture and flavour to boot! In this recipe, instead of crumbling the fetta over the top, you will make a vinaigrette. This makes the dressing smooth and luscious, and ensures a little bit of tang in every bite.
Ingredients
350 Grams of Porterhouse Steak (Thick-Cut)

0.5 Kilos of Watermelon

1 Tablespoons of Sherry Vinegar

1 Small Bunch of Chives

3 Radish

0.5 Cups of Israeli Couscous

40 Grams of Danish Fetta

1 Small Bunch of Mint
Recipe
Cook Couscous:
In a medium pot, heat a little butter and add couscous, toasting for 2-3 minutes before adding ½ cup of water. Bring to the boil, then turn down to simmer for 10 minutes with the lid on, stirring occasionally (Tip: if you don't have a lid, foil will do). Couscous is cooked when all the liquid has been absorbed. Once cooked, fluff couscous with a fork and season with salt and pepper. (NOTE: Israeli couscous is similar to barley, in that it has more of an al dente mouth feel when cooked)
Prepare & Cook Meat:
Wash the fresh produce. Pat steak dry with paper towel. Trim off any fat and dice into 2-3 cm pieces, season with salt and pepper. In a pan, heat oil over medium heat until it just starts to smoke. Add diced beef and cook until medium rare, about 6 minutes, shaking the pan to move beef during cooking. Set aside to rest.
Prepare Vinaigrette:
In a jug (or small bowl), combine crumbled fetta, finely chopped chives, vinegar and 4 tablespoons of olive oil. Whisk until smooth and combined. (Tip: you can use a stick blender if you have one).
Prepare Salad:
Trim rind off the watermelon and cut into 2-3 cm pieces. Thinly slice radishes, pick mint leaves and roughly tear (reserving some for garnish). In a bowl, combine watermelon salad with reserved beef pieces.
You Plate It:
Make a small bed of couscous and top with beef and watermelon salad. Drizzle with fetta vinaigrette to taste and garnish with reserved mint leaves. Enjoy!