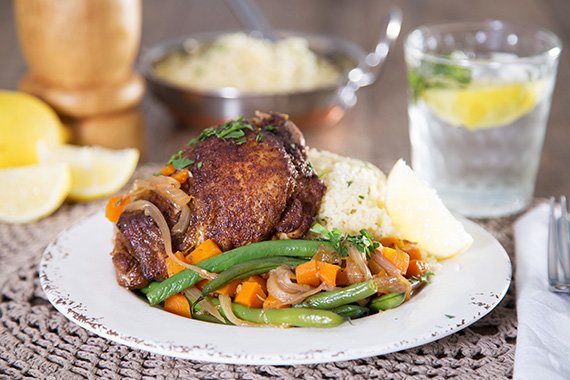 Berbere Chicken Thighs with Green Beans and Zesty Couscous
Prep time:

25

minutes

Calories: 600
In Ethiopian cuisine, Berbere spice mix is an integral component. Full of flavour, it's a spice that is not for the faint hearted. To showcase this amazing spice mix you will coat chicken thighs before searing. We have made our spice mix from cumin, cinnamon, coriander, cloves, turmeric, ginger, and paprika. We have removed some of the heat for the little ones but retained the unique and exotic flavours unique to Ethiopia. Happy cooking!
Ingredients
150 Grams of Green Beans

2 Garlic Clove

1 Small Bunch of Flatleaf Parsley

1 Carrot

1 Brown Onion

3 Chicken Thighs (skin on)

2 Tablespoons of Berbere Spice Mix

1 250ml Pack of Chicken Stock

1 Cups of Couscous

1 Tablespoons of Butter (pantry)

1 Lemon
Recipe
Prepare Ingredients:
Wash the fresh produce. Trim the stems off the green beans. Peel and roughly chop the garlic. Roughly chop the parsley leaves. Peel and small dice the carrot. Peel and thinly slice ¾ of the onion (you will have left over). Zest lemon and cut in half. Boil kettle.
Sear Chicken:
Season the chicken with salt and pepper and completely coat it in the Berbere spice mix. In a large pan, heat olive oil on medium-high until hot. Add the chicken thighs, skin-side down. Cook 5 to 7 minutes, or until golden brown.
Add Aromatics:
Flip the chicken over and add the onion, carrot, and garlic. Cook 4 to 6 minutes with the lid on or covered with foil, stirring occasionally.
Braise Chicken:
Add the chicken stock and green beans and increase the heat to high. Cook 7 to 9 minutes, or until the chicken is cooked through and the liquid is slightly reduced in volume, stirring occasionally.
Prepare Couscous:
While the chicken braises, add the couscous to a large bowl and enough boiling water to just cover the couscous, then pop a plate (or lid) on top and leave to fluff up. Fluff the finished couscous with a fork until well combined. Add half the parsley, lemon zest, squeeze of lemon juice (to taste) and the butter. Fluff the finished couscous with a fork until well combined. Season with salt and pepper to taste.
You Plate It:
Divide the couscous, chicken thighs, and vegetables between plates. Spoon over pan sauce and garnish with the remaining parsley. Enjoy!