Description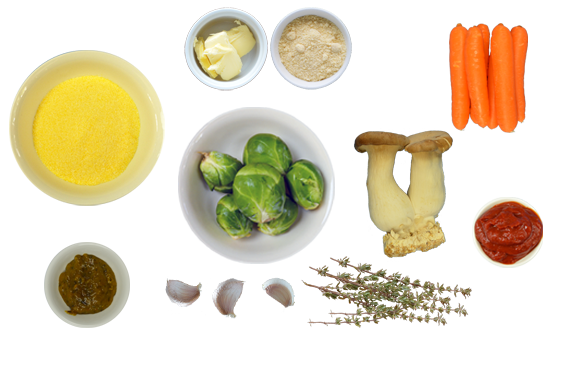 Ingredients
6 Baby Carrots
0.5 Dozen Brussels Sprouts
150 Grams Oyster Mushrooms
3 Cloves Garlic
1 Bunch Thyme
0.75 Cup Polenta
2 Tablespoons Butter
0.3 Cup Grated Parmesan Cheese
2 Tablespoons Tomato Paste
3 Tablespoons Vegetable Demi-Glace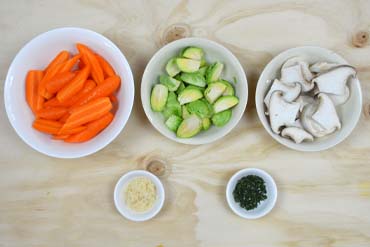 Prepare the ingredients:
Wash and dry the fresh produce. In a medium pot, heat 3 cups of salted water to boiling on high. Cut the carrots in half lengthwise, then cut in half crosswise on an angle. Remove the stems and tough outer leaves of the Brussels sprouts; cut lengthwise into quarters. Roughly chop the mushrooms. Peel and mince the garlic. Pick the thyme leaves off the woody stems; discard the stems and roughly chop the leaves.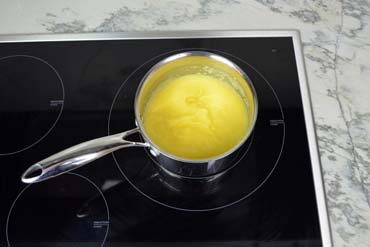 Cook the polenta:
Once the water is boiling, slowly stir in the polenta. Continue stirring to break up any lumps. Reduce the heat to low and simmer, stirring frequently, 10 to 12 minutes or until thickened. Remove from heat and stir in the butter and all but a pinch of the Parmesan cheese (reserve the rest for garnish). Season with salt to taste and mix thoroughly to combine.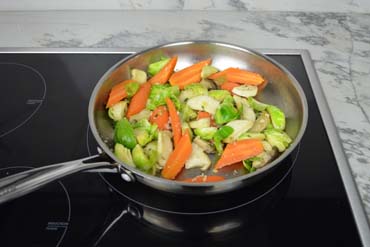 Start the vegetables:
While the polenta cooks, in a large pan, heat 2 teaspoons of olive oil on medium-high until hot. Add the carrots, Brussels sprouts, and oyster mushrooms and cook, stirring occasionally, 3 to 4 minutes, or until the vegetables begin to soften. Add the garlic and all but a pinch of the thyme (reserve the rest for garnish) and cook, stirring occasionally, for 2 minutes, or until fragrant.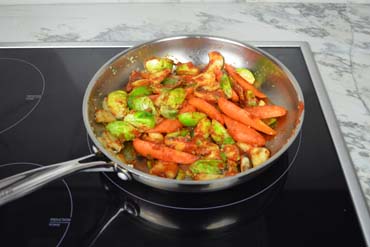 Add the tomato paste:
Stir the tomato paste into the pan of vegetables and cook, stirring frequently, 1 to 2 minutes, or until caramelized.
Add the liquids:
Stir the vegetable demi-glace and 1 cup of water into the tomato-vegetable mixture, scraping up any browned bits from the bottom of the pan. Bring the mixture to a boil, then reduce the heat to low and simmer 3 to 5 minutes, or until thickened. Season with salt and pepper to taste.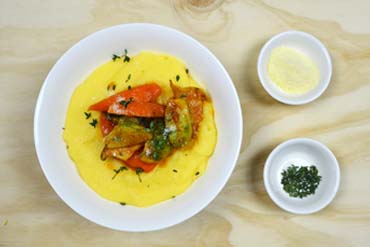 You plate it:
When the polenta is finished cooking, divide it between 2 plates. Top each with half of the vegetables. Garnish with the remaining thyme and Parmesan cheese. Enjoy!