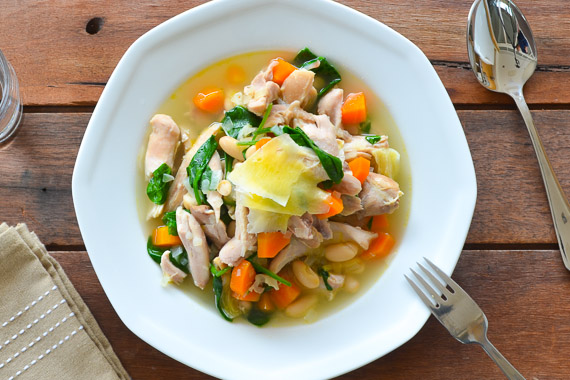 Braised Chicken Thighs with Cannellini Beans and Baby Spinach
Prep time: 30
Calories: 570
In this recipe you will cook the chicken two ways to develop a depth of flavours. Browning the chicken ensures a crispy crust, while braising will infuse the meat with flavour. To pull succulent chicken off the bone, we recommend using tongs so you don't burn your hands. Before cooking, it helps to quickly pat dry the chicken with a paper towel. Don't forget that a slight odour is a natural reaction to vacuum packing.
Ingredients
1 Brown Onion

1 Carrot

1 Garlic Clove

1 400 Gram Pack of Cannellini Beans

2 Chicken Thighs (skin on) & Drumsticks

1 30 Gram Pack of Concentrated Chicken Stock

1 75 Gram Pack of Baby Spinach

2 Tablespoons of Parmesan (Shaved)
Recipe
Prepare Ingredients:
Wash the fresh produce. Peel and small dice the onion. Peel carrot and cut into 1 cm dice. Smash garlic with flat side of a knife. Drain and rinse cannellini beans. Pat dry chicken with paper towel.
Sear Chicken:
Season both sides of chicken with salt and pepper. Heat olive oil in a medium pot over medium-high heat. When oil is shimmering, add chicken and sear until browned on outside and cooked through, 2-3 minutes per side. Transfer to a plate.
Cook Vegetables:
Return pot to medium heat and immediately add onion, carrot and smashed garlic. Cook until onions are soft and translucent, about 5-10 minutes.
Braise Chicken:
Return chicken to pot. Add concentrated chicken stock and 3 cups water. Increase heat to high to bring to the boil, then reduce heat to medium-low and simmer until beginning to thicken, about 20 minutes. Stir in cannellini beans and cook until chicken is tender, another 10 more minutes. Turn off heat and allow to stand until chicken is pulling away from bone, 5-10 minutes.
Debone Chicken:
Remove chicken from pot and discard any skin. Pull meat off bone and break into bite-size pieces. Return chicken pieces to pot, add baby spinach, and stir to combine. Turn heat to medium-high and bring to a simmer. Season to taste.
You Plate It:
Divide chicken, beans, and baby spinach evenly between bowls. Top with parmesan. Enjoy!