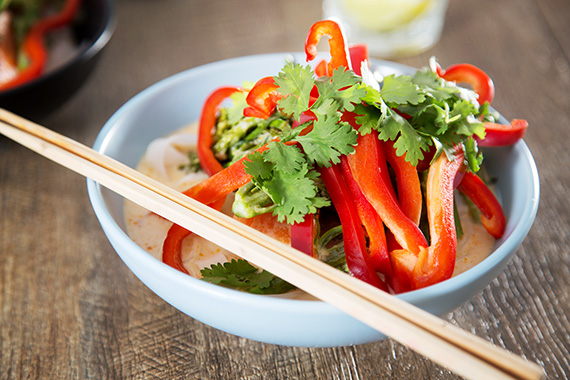 Broccolini & Sweet Potato Laksa with Fresh Lime
Prep time: 15
Calories: 600
This is a great quick and healthy meal for your mid-week madness! A decent serving of vegetables in this laksa will set you up well for the rest of your week, with crunch and freshness to boot. Be the envy of your friends and share your #youplateit moment on Instagram or Facebook.
Ingredients
1 Bunch of Broccolini

2 Tablespoons of Laksa Curry Paste

1 400 Gram Pack of Coconut Milk

300 Grams of Sweet Potato (Small)

2 Teaspoons of Fish Sauce

1 Teaspoons of Brown Sugar

1 200 Gram Pack of Rice Noodles

1 Red Capsicum (Small)

1 Lime

1 Small Bunch of Coriander
Recipe
Simmer Sweet Potato:
Peel sweet potato and cut into large pieces, about 2-3 cm. Heat the oil in a pot over medium heat. Add the laksa paste and cook, stirring for about 1 minute. Add coconut milk, ½ cup of water and sweet potato. Bring to simmer, cover and cook for 10 minutes or until sweet potato is tender.
Prepare Ingredients:
Meanwhile, wash the fresh produce. Trim and discard broccolini ends, and cut into 3 cm lengths, keeping the florets whole. Thinly slice capsicum and set aside.
Add Broccolini:
Remove the lid. Add the broccolini and cook for a further 2 minutes or until bright green and tender. Combine the fish sauce, lime juice and sugar and stir into the laksa, cook for 1 minute.
Cook Rice Noodles:
Meanwhile, boil the kettle. Place rice noodles in a large bowl and cover with boiling water. Cover for 3 minutes, until tender.
You Plate It:
Drain and divide the noodles between bowls. Spoon over the laksa. Garnish with picked coriander leaves and capsicum. Enjoy!