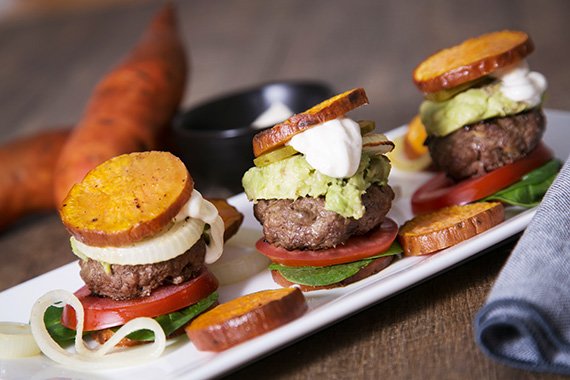 Bun Free Mini Beef Sliders with Sweet Potato, Onion & Avocado
Prep time:

30

minutes

Calories: 570
These days, a lot of people are watching their carbohydrate intake, and are careful not to eat too many 'refined' carbs. In this recipe we've swapped out the buns for slices of sweet potato. You get the delicious components of a beef slider with the guilt free, bun free bonus. Tailor make your slider to suit you and get as messy as you like 😉
Ingredients
400 g of Sweet Potato

300 g of Beef Mince

1 of Avocado (small)

1 of Tomato (small)

1 75g Pack of Baby Spinach

2 Tbsp of Dijon Mustard & Mayonnaise

1 of Garlic Clove

1 Tbsp of Parmesan (Finely Grated)

1 of Brown Onion

1 of Pickles
Recipe
Bake Sweet Potato & Onion:
Preheat the oven to
200°C.
Thinly slice
sweet potato
in to 8mm thick rounds. Peel
onion
and cut into thick rings. Place
sweet potato
and
onion
rings on a lined baking tray and drizzle with olive oil and season with salt and pepper. Cook in the oven for 20-25 minutes until tender.
Make Slider Patties:
Peel and mince
garlic.
In a bowl, combine
beef mince, garlic, parmesan
, salt and pepper. Using your hands, mix well and form into
6 even sized patties
, with a small indent in the middle of each one.
Cook Patties:
Heat oil in pan over medium-high heat. Add
patties
and cook until no longer pink and cooked through, 3-4 minutes per side. Remove from pan and set aside to rest for about 5 minutes.
Prepare Remaining Ingredients:
Meanwhile; Thinly slice
pickle
and
tomato
into rounds. Score
avocado
flesh and use a spoon to scoop into a small bowl. Mash
avocado
with a fork and season with with salt and pepper.
You Plate It:
Assemble the
sliders
with a piece of
sweet potato
as the base,
spinach, tomato, pattie, onion rings
and top with
smashed avocado, pickle
and
Dijon mayo
. Serve
3 mini sliders
per person with any spare
sweet potato, onion rings
and
salad
ingredients on the side. Delish!