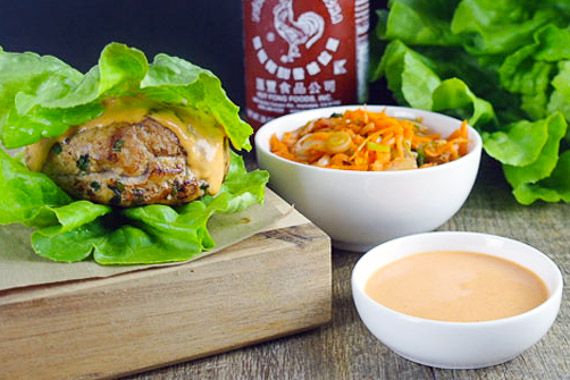 Bun Free Pork & Chive Burgers with Sriracha Aioli & Kimchi Slaw
Prep time: 30
Calories: 690
In this bread free recipe you will use Kimchi, a Korean condiment made from fermented vegetables flavoured with garlic, ginger, chillies and fish. You will mix this unique ingredient with carrots to make a delicious slaw. Cooking tip: salt helps to break down garlic and draw out its natural juices. By repeatedly scraping a knife over a salt and garlic mix you'll get a paste! Happy cooking and don't forget to share with the #youplateit community.
Ingredients
1 Green Oak Lettuce

300 Grams of Pork Mince

5 Grams of Chives

1 Ginger

2 Spring Onion

2 Garlic Clove

1 Tablespoons of Sesame Oil

40 Grams of Mayonnaise

2 Teaspoons of Sriracha Sauce

0.5 Tablespoons of Rice Vinegar

0.75 Cups of Kimchi

1 Carrot
Recipe
Prepare Ingredients:
Wash the fresh produce. Pat dry pork with paper towel. Thinly slice chives. Thinly slice the spring onions. Peel and mince the garlic and ginger. Grate carrot.
Make Burgers:
In a large bowl, combine 1 teaspoon only of the sesame oil, pork mince, chives, ginger, half the garlic, salt, and pepper. Using your hands, mix to combine well. Form into 2 equal patties, about 2½ cm thick. Using your thumb, create a dimple in the centre of each.
Cook Burgers:
Heat oil in a medium pan over medium-high heat. When oil is shimmering, add burgers and cook until no longer pink and cooked through, 3-4 minutes per side. Remove from pan and set aside to rest for about 5 minutes.
Make Sriracha Aioli:
While burgers cook, sprinkle a pinch of salt over remaining garlic on a cutting board. Using a large knife, carefully scrape over mixture at a 45° angle, pressing down. Repeat until garlic is broken down and a paste forms. In a small bowl, combine garlic paste, mayonnaise, and as much Sriracha as desired. Taste and add salt and pepper as needed. Set aside.
Toss Slaw:
In a large bowl, whisk together rice vinegar and remaining sesame oil. Add kimchi, shredded carrot, and spring onion and toss to coat. Taste and add salt and pepper as required.
You Plate It:
Stack lettuce leaves on each plate and top with burgers. Add a dollop of Sriracha aioli and serve with kimchi carrot slaw alongside. Enjoy!