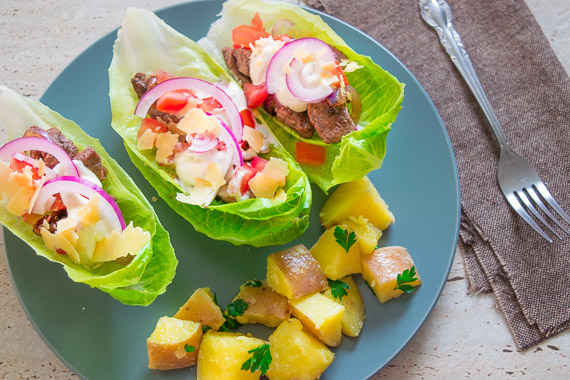 Caesar Dressed Steak Lettuce Cups with Red Potatoes
Prep time: 20
Calories: 640
The Caesar salad as we know it was supposedly invented during the 1920s. On a busy night, a famous restaurateur in San Diego used what was available in his almost empty kitchen to make a salad he prepared at the customers table. Our steak caesar lettuce cups are a fun break from the ordinary. You will enjoy grilled steak, caesar dressing, red onion and tomato, mixed together and served in a lettuce leaf. Don't forgot to share the moment #youplateit
Ingredients
300 Grams of Rump Steak (Thick Cut)

2 Tomato

1 Red Onion

1 Baby Cos Lettuce

1 Small Bunch of Flatleaf Parsley

500 Grams of Red Potatoes

0.25 Cups of Caesar Salad Dressing

1.5 Tablespoons of Parmesan (shaved)

1 Tablespoons of Butter (pantry)
Recipe
Prepare Ingredients:
Wash the fresh produce. While the steak is in the packet, tenderize using a rolling pin or something heavy. Remove from the packet and pat dry with paper towel; cut into 1-2 cm slices. Season steak all over with salt. Medium dice tomato. Roughly chop parsley leaves, discarding stems. Peel onion and thinly slice. Dice potatoes into 2 cm pieces.
Boil Red Potatoes:
In a medium pot over high heat, add potatoes and a generous pinch of salt. Cover with cold water and bring to a boil. Boil until tender when pierced with a fork, about 8-10 minutes. Drain and transfer to a medium bowl. Immediately toss with parsley, 1 Tbs olive oil and butter. Taste and add salt and pepper as needed.
Cook Steak:
Heat olive oil in a large pan over medium-high heat. When oil is shimmering, add steak and ¾ of the onion. Cook until steak is browned on the outside and medium rare, about 2-3 minutes or to your preferred doneness. Remove steak and onion from pan and set aside to rest for 5 minutes.
Assemble Lettuce Cups:
Divide tomatoes, steak and onion among 2 lettuce leaves per cup. Drizzle over Caesar dressing.
You Plate It:
Divide potatoes and lettuce cups evenly between plates. Sprinkle over shaved parmesan and remaining red onion. Enjoy!