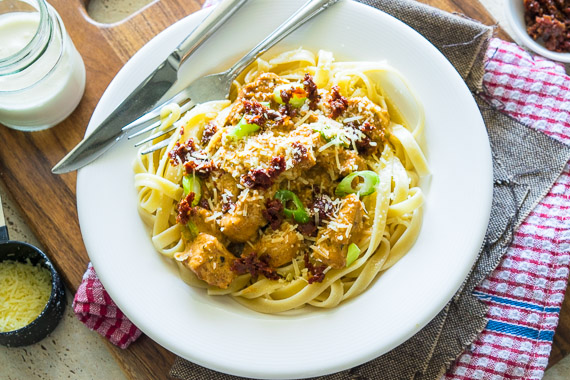 Cajun Inspired Chicken Alfredo with Sundried Tomatoes & Fettucine Pasta
Prep time: 20
Calories: 820
Alfredo is a northern Italy pasta dish made from fettuccine tossed with parmesan cheese and butter. This simple but delicious recipe was first recorded in a 15th century Italian cookbook. For this recipe, you will use sundried tomatoes and some whipping cream to give a taste of summer and make it even more delicious. Share your masterpiece on Instagram #youplateit #nomorewhatsfordinner
Ingredients
2 Chicken Breast

2 Teaspoons of Cajun Spice Mix

30 Grams of Sundried Tomatoes

1 Spring Onion

1 Garlic Clove

1 Tablespoons of Butter (pantry)

1 250 Gram Pack of Fettucine No.81

100 Grams of Whipping Cream

0.25 Cups of Parmesan (Shredded)
Recipe
Prepare Chicken & Ingredients:
Heat a large pot of salted water. Wash the fresh produce. Pat dry chicken with a paper towel then cut into bite size pieces. Place chicken and Cajun spice mix in a bowl and toss to thoroughly coat. Mince sundried tomatoes. Thinly slice the spring onion. Thinly slice the garlic.
Cook Chicken:
In a large pan over medium heat, sauté chicken, stirring frequently. Add half the butter until chicken is tender and cooked through, about 5 minutes.
Cook Pasta:
In the meantime, add pasta to the pot of boiling water. Cook for 5 minutes. Once cooked, drain and set aside. Drizzle lightly with olive oil to prevent the pasta from sticking.
Create Creamy Sauce:
Reduce heat, add remaining butter, sliced garlic, and ½ the spring onion. Gently cook for about 1 minute. Add whipping cream, ¾ of the minced sundried tomatoes. Simmer gently for about 2 to 3 minutes until the sauce reaches a creamy consistency. Taste, then season with cracked pepper and salt.
You Plate It:
Pour creamy sauce over pasta. Toss with parmesan cheese and top with remaining sundried tomatoes and sliced spring onion. Enjoy!