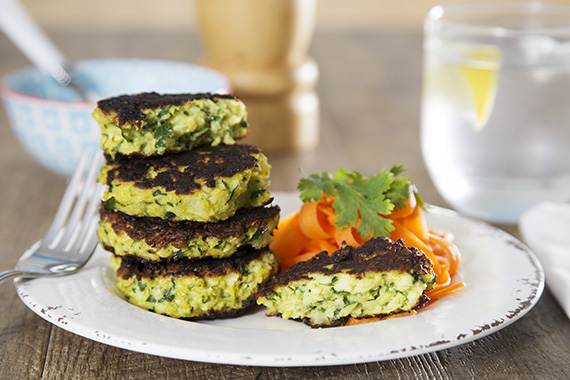 Cauliflower & Zucchini Falafels with Pickled Carrots
Prep time: 20
Calories: 380
These warm flavourful falafels are better than the real deal, because they are packed with cauliflower, zucchini, almonds and fresh herbs! A great, quick meal, prepared in your food processor. Combined with a simple, pickled carrot salad it is a delicious low carb meal, full of vegetable goodness. Tip: If you like, you can use plain yoghurt or sour cream as a simple dipping sauce. Share your plate on Instagram at #youplateit.
Ingredients
1 Brown Onion

1 250 Gram Pack of Cauliflower Florets

1 Zucchini

2 Garlic Clove

2 Carrot

1 Small Bunch of Flatleaf Parsley

2 Teaspoons of Falafel Spice Mix

80 Grams of Falafel Flour Mix (GF)

2 Tablespoons of Rice Vinegar

1 3 Gram Pack of Sugar
Recipe
Mince Onions & Herbs:
Wash the fresh produce. Peel garlic and onion, cutting onion in half you only need half for this recipe. Using a food processor or blender, add onion, garlic and parsley leaves and mince. Set aside in a mixing bowl.
Mince Cauliflower & Zucchini:
Cut zucchini into quarters lengthwise and remove seeds, cut into chunks. Add cauliflower florets and zucchini to food processor or blender and mince. Add to mixing bowl with onion and herbs and season with salt and pepper.
Combine Ingredients:
Add egg, falafel flour blend, and spice mix and mix well. Form into rough falafels patties about 8. They will be quite fragile, so forming them as you place into the pan is a good idea.
Cook Falafels:
Heat oil in a pan over medium heat. As the oil starts to shimmer, add falafels and cook for about 5 minutes per side. Tip: once you have cooked one side, you can put a lid on to cook the other side, to speed up cooking time. Set aside cooked falafels on paper towel and keep warm while cooking the remaining falafels.
Pickle Carrots:
Meanwhile, peel carrots. Then, using a peeler or mandolin if you have one, peel carrot into long strips. In a small bowl dissolve the sugar in vinegar and then dress the carrots with vinegar mix.
You Plate It:
Divide the pickled carrots between plates and add a stack of warm falafels - Enjoy!