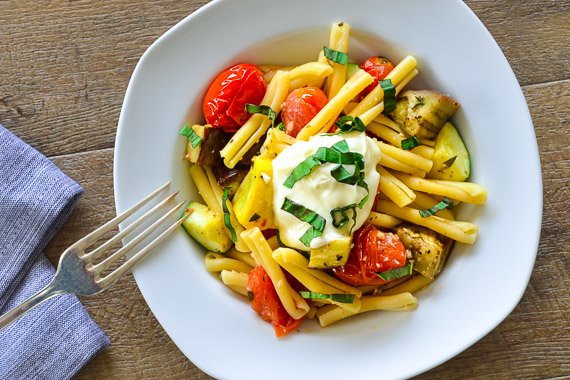 Cavatelli Pasta with Roasted Vegetables with Basil & Ricotta
Prep time:

35

minutes

Calories: 660
Cavatelli is a type of pasta that originates from Southern Italy and is shaped like small bullets or tiny hotdog buns. It has a long rolled edge which helps to trap in sauce, making it the perfect choice for a thick vegetable heavy sauce like the one in this recipe. Happy cooking! #youplateit
Ingredients
1 Graffiti Eggplant

1 Zucchini

2 Squash

1 Small Bunch of Thyme

1.5 Cups of Grape Tomatoes

180 Grams of Cavatelli

2 Garlic Clove

0.125 Teaspoons of Chili Flakes

1 Small Bunch of Basil

50 Grams of Ricotta (Soft)

20 Grams of Parmesan (Shredded)
Recipe
Roast Vegetables:
Preheat oven to 200°C. Wash the fresh produce. Cut eggplant, zucchini, and squash into 2½ cm pieces and place on a foil-lined baking tray. Toss with olive oil. Season generously with salt to remove bitterness from the eggplant. Arrange in a single layer and roast in the oven on the top rack until golden brown and tender, about 18 - 20 minutes.
Roast Tomatoes:
Remove thyme leaves from stems. Place tomatoes in a medium high-sided baking dish. Toss with olive oil, thyme, salt, and pepper. Roast in oven below vegetables until tomatoes begin to burst, about 12 minutes.
Cook Cavatelli:
Meanwhile, bring a pot of water and a large pinch of salt to a boil over high heat. When water is boiling, add cavatelli and cook until al dente, about 14 minutes. Drain in a colander and set aside.
Prepare Sauce:
Peel and mince garlic. Heat olive oil (or butter) in a large pan over medium heat. When oil is shimmering, add minced garlic and chili flakes (use as much or as little as desired). Stir to coat and cook until garlic is golden brown, about 2 minutes. Add roasted vegetables and tomatoes and stir to combine.
Sauce Cavatelli:
Add cooked cavatelli to the pan and stir to coat. Taste and add salt and pepper as needed. Roughly tear basil leaves, discarding stems.
You Plate It:
Divide cavatelli and sauce evenly between bowls. Garnish with parmesan, basil and a dollop of ricotta. Serve immediately. Enjoy!