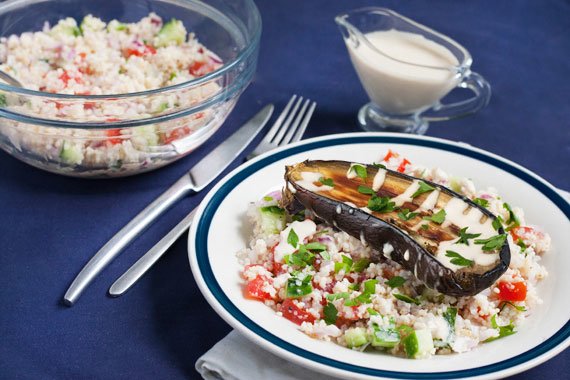 Charred Eggplant with Tahini and Quinoa Tabbouleh
Prep time:

35

minutes

Calories: 530
Tabbouleh is a Middle Eastern grain salad traditionally made with parsley, tomatoes, cucumbers, lemon juice, and olive oil. Traditionally served as part of a mezze in the Arab world, tabbouleh has now been adopted by many cultures and is a popular salad around the world. Here you will use quinoa together with cucumber, onion and parsley. Enjoy.
Ingredients
0.66 Cups of White Quinoa

1 Eggplant

2 Garlic Clove

2 Tomato

1 Lebanese Cucumber

1 Red Onion

1 Small Bunch of Flatleaf Parsley

1 Lemon

3 Tablespoons of Tahini
Recipe
Cook Quinoa:
Preheat the oven to 200°C. Wash quinoa well under cold water in a fine strainer, gently rubbing the seeds together with your hands to remove any remaining residue. Combine 1⅓ cups water and washed quinoa in a pot with a small pinch of salt and bring to the boil. Once boiling, reduce the heat to very low and place on a lid. Simmer on low heat for 15 minutes or until all the water has absorbed; then turn off the heat. Rest for at least 10 minutes then fluff the quinoa with a fork.
Roast Eggplant:
If you prefer to remove the eggplant skin, use a peeler to remove, then cut into 1½ cm slices. Drizzle olive oil over cut sides of eggplant then sprinkle with salt and pepper. Place in a single layer on a lined baking tray (you may need 2 baking trays). Roast for 12 to 14 minutes, then flip and roast the other side for another 12 to 14 minutes, until skin is charred and flesh is tender.
Prepare Ingredients:
In the meantime, wash the fresh produce. Peel and mince garlic. Cut tomato and cucumber 1 cm dice. Peel onion and small dice. Roughly chop parsley leaves, discarding stems. Halve lemons.
Make Tahini Dressing:
While eggplant roasts, in a bowl, combine half of garlic (or less to taste), half the lemon juice (or less to taste), and tahini. Slowly whisk in up to 3 TBS of warm water, 1 TBS at a time, until consistency is smooth and pourable. Taste and add salt and pepper as needed. Set aside.
Toss Tabbouleh:
In a separate bowl, combine remaining garlic, remaining lemon juice, and 1 TBS olive oil. Taste and season with salt and pepper as needed. Add quinoa, tomato, cucumber, onion, and half the parsley; stir to combine. Taste and add extra seasoning if required.
You Plate It:
Divide tabbouleh evenly between plates and top with eggplant. Drizzle over tahini and garnish with remaining parsley. Enjoy!