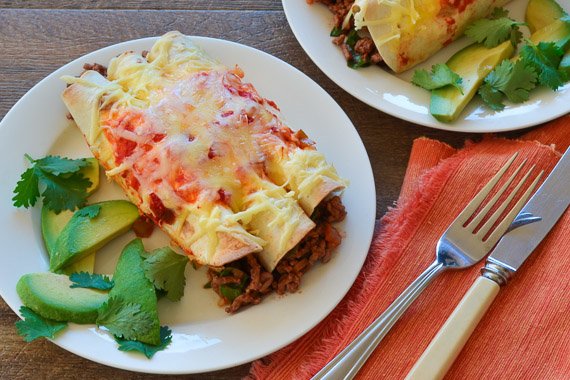 Cheesy Beef Enchiladas with Avocado, Spinach, and Beans
Prep time: 20
Calories: 850
This recipe includes a traditional Mexican spice mix - chili powder, onion powder and cumin - which helps to create an authentic flavour. The soft tortillas wrapped around a beef and bean filling will be a weeknight favourite. Don't forget to share the moment #youplateit on Instagram.
Ingredients
1 75 Gram Pack of Baby Spinach

1 400 Gram Pack of Red Kidney Beans

250 Grams of Beef Mince

1 6-Pack of Flour Tortillas

1 Tablespoons of Beef Enchilada Spice Mix

0.75 Cups of Tomato Salsa

0.75 Cups of Tasty Cheese (grated)

1 Avocado

1 Tomato (small)

1 Green Capsicum (small)
Recipe
Prepare Ingredients:
Preheat oven to 200°C. Wash the fresh produce. Roughly chop ¾ the spinach. Remove and discard capsicum seeds and dice 1cm. Roughly chop tomato. Drain and rinse the red kidney beans. Stack tortillas and wrap in a damp paper towel, then in foil, and place in oven to warm, 5-10 minutes.
Brown Beef:
While tortillas warm, heat olive oil in a pan over medium high heat. When oil is shimmering, add beef, tomato and capsicum. Cook, breaking up with the back of a spoon, until browned, about 5 minutes. Add spice mix (to taste depending on how much heat you like), stir to combine, and cook until fragrant, about 1 minute. Taste and add salt and pepper as needed.
Make Filling:
In the same pan, add ½ the salsa, chopped spinach, and red kidney beans then stir to combine.
Assemble Enchiladas:
Lay tortillas flat on a clean dry surface. Divide filling evenly among tortillas. Fold sides around tightly to create cylinders, then transfer seam-side down to a medium baking dish, arranging in a single layer.
Bake Enchiladas:
Spoon remaining salsa in a line across tops of enchiladas. Sprinkle over cheese. Bake until cheese is melted and enchiladas are warmed through, 8- 10 minutes. Meanwhile, halve avocado and remove and discard pit. Using a spoon, scoop out flesh and cut into ½ cm slices.
You Plate It:
Divide enchiladas, remaining spinach and avocado evenly between plates. Season to taste. Enjoy!