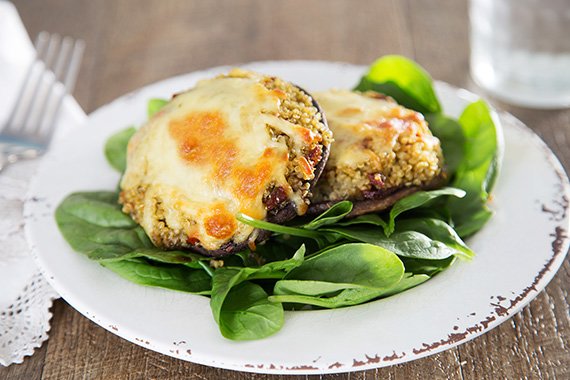 Cheesy Quinoa & Sundried Tomato Stuffed Portobello Mushrooms with Baby Spinach
Prep time:

30

minutes

Calories: 750
Quinoa is often referred to as a grain, but it's actually a seed. Originating from the Andean region of Peru, it has long been prized for its high protein content, which makes it perfect for a plant-based diet. Naturally gluten free, Quinoa is a rich source of B vitamin and folate. In this recipe, it completes the stuffed mushroom and balances the sundried tomatoes. Happy cooking!
Ingredients
0.5 Cups of White Quinoa

6 Portobello Mushrooms

0.5 Cups of Sundried Tomatoes

3 Tablespoons of Pesto

70 Grams of Grated Pizza Cheese

1 75 Gram Pack of Baby Spinach

1 Tablespoons of Balsamic Dressing

1 Tablespoons of Vege Stock Concentrate
Recipe
Cook Quinoa:
Preheat oven to 200°C. Rinse quinoa under cold water using a fine mesh strainer. Place quinoa, vege stock concentrate and 1 cup water in a pot over high heat. Bring to a boil, then reduce heat to low and simmer until water has evaporated and quinoa is tender, about 10 minutes. Remove pot from heat, cover, and set aside.
Roast Mushrooms:
Wipe outside of mushrooms caps with a damp paper towel. Scoop out gills from inside with a spoon and discard. Place mushrooms cap side up on a foil lined baking tray and drizzle over olive oil. Season with salt and pepper and roast until browned and almost tender, about 5-7 minutes.
Make Stuffing:
Meanwhile, finely chop sun-dried tomatoes. Add chopped sun-dried tomatoes, cooked quinoa and pesto to a large bowl and stir to combine.
Stuff Mushrooms:
Flip over mushroom caps on baking tray and fill with quinoa stuffing. Top with cheese and roast until cheese is melted and bubbling, about 15-20 minutes or until mushrooms are tender.
Make Salad:
Meanwhile, rinse baby spinach and pat dry with paper towel. Add baby spinach to bowl and toss to coat.
You Plate It:
Divide salad evenly between plates. Top with stuffed mushrooms, allowing the spinach to wilt slightly. Serve immediately. Enjoy!