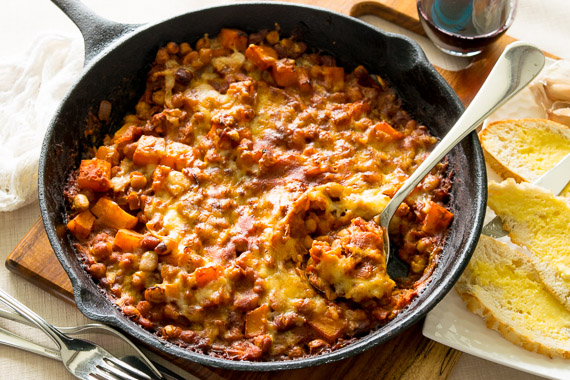 Cheesy Smoked Baked Beans with Pumpkin & Ciabatta Toasts
Prep time:

45

minutes

Calories: 750
Comforting and delicious, this recipe is a great meat-free dinner idea. Baked beans have gone out of favour in many Australian kitchens, but you've probably not tried them like this before! With a spice combination of chipotle chili powder and smoked paprika, the beans and chickpeas take on a rich and full flavour. This is a recipe that gets better after a day in the fridge, so be sure to save leftovers for lunch the following day.
Ingredients
1 Red Onion

400 Grams of Kent Pumpkin

1 400 Gram Pack of Mixed Beans

1 400 Gram Pack of Chickpeas

1.5 Teaspoons of Chipotle Chili Powder & Smoked Paprika

2 Tablespoons of Barbeque Sauce

1 400 Gram Pack of Diced Tomatoes

80 Grams of Tasty Cheese (grated)

1 Garlic Clove

2 Ciabatta Roll
Recipe
Prepare Ingredients:
Preheat oven to 220°C. Small dice ¾ of the onion, you will have remainder. Dice pumpkin into 1½ cm dice, discarding skin. Drain and rinse beans.
Start Beans:
Heat oil in a large ovenproof frying pan or pot if you don't have one over medium heat: cook onion and pumpkin, stirring occasionally, for 10 minutes or until onion has softened slightly. Add diced tomatoes, chipotle chili powder and smoked paprika, mixed beans, half the chickpeas you'll have leftover, and barbecue sauce. Fill the empty diced tomato can with ⅓ water then add. Stir to combine, cook, uncovered, for about 6 minutes or until thickened slightly. Season to taste.
Oven Bake Beans:
If you don't have an ovenproof frying pan, transfer the bean mixture to a baking dish. Sprinkle with cheese. Add to the oven, then bake for about 20 minutes or until cheese is browned slightly and pumpkin is cooked to your liking.
Toast Ciabatta Roll:
Drizzle the ciabatta roll slices with olive oil or butter. Place on a lined baking tray and add to the oven when there's about 5 minutes remaining on the beans, or until browned and crispy. Remove from the oven, and while still hot, rub with the whole garlic clove.
You Plate It:
Serve baked beans with torn garlic bread. Enjoy!