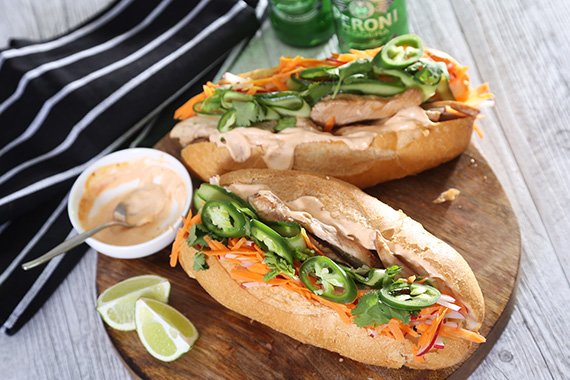 Chicken Bahn Mi with Sriracha Mayo & Quick Pickled Vegetables
Prep time:

30

minutes

Calories: 520
The classic Vietnamese sandwich is usually made with meat or plant based protein, pickled vegetables, fresh vegetables, and mayo, all stuffed into a crunchy French baguette. In this recipe you will make some quick pickled carrot and radish to provide sweet, spicy, salty and savoury in every mouthful. Share the moment #youplateit with us in Instagram and Facebook.
Ingredients
2 Chicken Breast

1 Lebanese Cucumber

2 Vietnamese Baguette

1 Carrot

3 Radish

40 Grams of Sriracha Mayonnaise

1 Small Bunch of Coriander

1 Lime

1 Jalapeno

1 Tablespoons of Soy & Fish Sauce (GF)

1 Tablespoons of Rice Vinegar

1 3 Gram Pack of Sugar
Recipe
Marinate Chicken:
Preheat oven to 180°C. Cut lime into wedges. Pat chicken dry on paper towel and slice into 1cm strips. Place chicken in a bowl with soy & fish sauce, juice from half the lime and mix well to coat. Set chicken aside to marinate while preparing remaining ingredients.
Prepare Remaining Ingredients:
Wash the fresh produce. Peel and grate carrot. Trim cucumber and peel into ribbons. Trim and cut radish into matchsticks. (TIP: if you are pressed for time, you can grate the carrot and radish using a box grater). Thinly slice jalapeno (removing seeds if preferred). Pick coriander leaves, discarding roots and stems.
Pickle Carrot & Radish:
Boil the kettle. In a bowl, add sugar, rice vinegar and 2 TBS boiling water, stirring until sugar has dissolved. Add carrot and radish, tossing well to coat. Set aside to cool.
Cook Chicken:
Heat oil a pan over medium-high heat (enough to cover the base). Add marinated chicken (discarding remaining marinade) and cook (in batches if necessary), stirring, for 5 minutes, until chicken is cooked through.
Warm Baguettes:
Cut baguettes in half lengthwise, taking care not to cut all the way through. Wrap baguettes in foil and place in oven to warm through, about 5 minutes.
You Plate It:
Spread sriracha mayo (to taste) inside baguettes. Layer with cucumber ribbons, cooked chicken, pickled carrot and radish, then top with sliced jalapenos, and scatter over coriander. Enjoy!