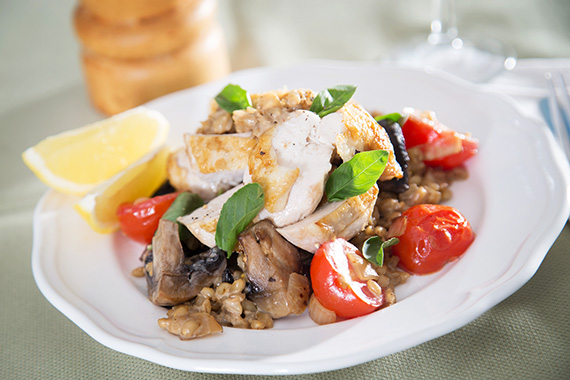 Chicken Fricassee with Pearl Barley
Prep time: 30
Calories: 445
A fricassee is halfway between a sautè and a stew. A true classic -- with as many variations as there are grandmothers in France -- it relies on humble ingredients. In this recipe we have added a nutritious twist with some pearl barley. Treat yourself to a delicious midweek meal of simmered chicken and mushrooms with creamy barley, tomato and basil. Enjoy and share your moment on Instagram and Facebook #youplateit.
Ingredients
0.5 Cups of Pearl Barley

1 30 Gram Pack of Concentrated Chicken Stock

150 Grams of Swiss Brown Mushrooms

120 Grams of Cherry Tomatoes

1 Brown Onion

1 Small Bunch of Basil

50 Grams of Thickened Cream

2 Chicken Breast (skin on)
Recipe
Cook Barley:
Heat oven to 200°C. Rinse barley. Add 2 cups of water to a pot, boil over high heat. When water is boiling, add barley and a generous pinch salt. Reduce heat to simmer, cover with a lid and cook until tender and almost all the water has been absorbed, about 35 minutes. Drain, covering to keep warm, and set aside.
Prepare Ingredients:
Wash the fresh produce. Combine ½ concentrate chicken stock you will have remainder with ½ cup of water. Cut mushrooms into bite size pieces and halve tomatoes. Peel and finely dice ¾ onion you will have some left over. Pick basil leaves, discarding stems.
Cook Chicken & Sautè Onion:
Pat dry chicken with paper towel and season with salt and pepper. Heat oil in an oven proof pan over medium high heat. Add chicken to pan, skin side down. Cook, 2-3 minutes before flipping skin should be browned. Add onion to the pan and continue to sautè for 4 minutes, until onion is tender. The chicken won't be fully cooked at this point.
Add Stock & Tomatoes:
Add chicken stock and tomatoes to the pan and bring to a simmer. Place in the oven for 15 minutes.
Finish Sauce:
Carefully remove pan from the oven and put back on the stove top over low heat. Remove chicken and slice. Add cream, cooked barley and basil leaves reserving some for garnish. Simmer for 5 minutes, until thickened slightly. Season with salt and pepper.
You Plate It:
Divide the barley 'stew' between plates and top with sliced chicken. Garnish with reserved basil and enjoy!