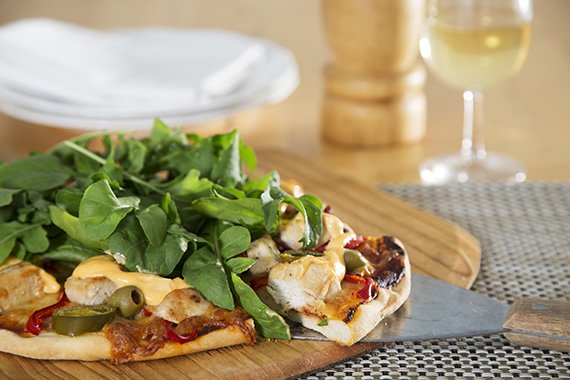 Chicken & Jalapeno Pizza with Peri Peri Mayo
Prep time:

30

minutes

Calories: 550
This recipe is great for those who like their pizza a little bit spicy! The pickled jalapenos along with the olives make for a great flavour combination. Top with fresh greens and you can add as much or as little peri peri mayo as you like - what's not to love? Share your triumph at #youplateit on Instagram and make your friends drool!
Ingredients
1 Pizza Base

1 50 Gram Pack of Pizza Tomato Paste

90 Grams of Mozzarella (Grated)

1 Chicken Breast

1 Red Capsicum (Small)

25 Grams of Sliced Jalapenos

1 75 Gram Pack of Rocket & Baby Spinach

0.25 Cups of Peri Peri Mayonnaise

35 Grams of Green Olives (pitted)
Recipe
Preheat Oven / Cook Chicken:
Preheat oven to 250°C until nice and hot. Wash the fresh produce. Pat dry chicken with paper towel. Cut chicken into 1 cm thick pieces. Heat vegetable oil in a pan over medium-high heat. Season chicken on both sides with salt and pepper. When oil is shimmering, add chicken and cook until browned on outside, about 3 minutes per side. Transfer to a plate and set aside.
Prepare Base:
Add pizza base to a baking tray. Spread pizza sauce over the base and top with mozzarella.
Add Toppings:
Add sliced capsicum, jalapenos (if you don't mind a bit of heat - alternatively reduce the amount used or omit), olives and cooked chicken. Scatter evenly over the base.
Cook Pizza:
Place pizza in oven and cook for 10 to 12 minutes until the base is browned and crisp, or done to your liking.
You Plate It:
Remove pizza from the oven, drizzle with peri peri mayonnaise and top with spinach and rocket. Cut into slices. Enjoy!