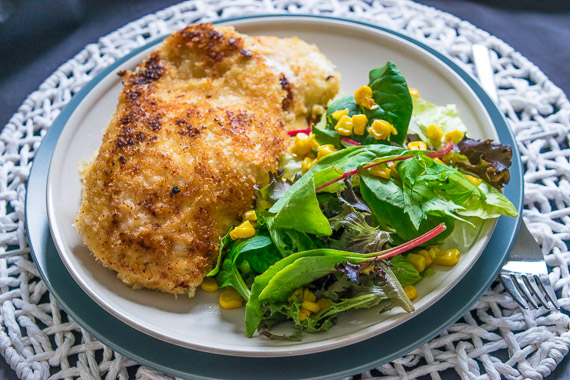 Chicken Milanese with Buttered Corn, & Fresh Mixed Lettuce Salad
Prep time: 25
Calories: 700
This recipe is an Italian classic, traditionally served in summer and named after the city of Milan, Chicken Milanese. Here you will thinly slice, bread and then lightly-fry a beautiful free range chicken breast. Served with some local sweet corn and a little mixed lettuce, it is a simple and delicious dinner. Enjoy the moment share on Instagram #youplateit
Ingredients
2 Chicken Breast

0.75 Cups of Panko Bread Crumbs

2 Sweet Corn Cob

1 75 Gram Pack of Mixed Lettuce

3 Tablespoons of Plain Flour

1 Tablespoons of Red Wine Vinegar

0.25 Cups of Dijon Mustard

1 Teaspoons of Butter (pantry)
Recipe
Prepare Ingredients:
Wash the fresh produce. Remove and discard the husks and silks of the corn. Cut the corn kernels; discarding the cobs. In a large bowl, combine ¾ of the mustard and 3 tablespoons of water. Place the chicken on a clean work bench. Hold a sharp knife along the side of the chicken. Using a sawing motion, slice through each chicken breast to cut through the chicken.
Cook Corn:
In a large non stick pan, heat butter on medium-high until hot. Add the corn; season with salt and pepper. Cook, stirring occasionally, 3 to 5 minutes, or until tender. Transfer to a large bowl. Wipe out the pan.
Bread Chicken:
Place the flour and breadcrumbs into 2 separate large bowls. Pat the chicken dry with paper towel; season with salt and pepper on both sides. Working 1 at a time, completely coat the chicken in the flour tapping off any excess. Dip in the mustard-water mixture letting the excess drip off. Thoroughly coat in the breadcrumbs pressing down firmly. Transfer to a plate.
Cook Chicken:
In the pan used to cook the corn, heat a thin layer of oil on medium-high until hot. Once the oil is hot enough that a few breadcrumbs sizzle immediately when added to the pan, add the breaded chicken. Cook 3 to 5 minutes per side, or until golden brown and cooked through. Work in batches if required. Transfer to a paper towel-lined plate; season immediately with salt.
Make Vinaigrette:
While the chicken cooks, in a small bowl, combine the red wine vinegar and remaining mustard; season with salt and pepper to taste. Slowly whisk in 1-2 tablespoons of olive oil until thoroughly combined.
You Plate It:
To the bowl of cooked corn, add the mixed lettuce. Add enough of the vinaigrette to coat the salad use as much as desired; toss to mix and season with salt and pepper to taste. Divide the cooked chicken and salad between plates. Enjoy!