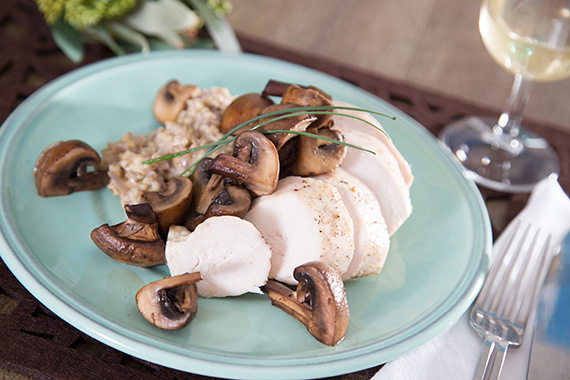 Chicken & Mushrooms with Buckwheat Risotto
Prep time: 25
Calories: 605
Earthy buckwheat is a great match for mushrooms and chicken - we are sure you'll enjoy this spin on traditional risotto. Fun Fact: Buckwheat is often mistaken as a grain, but this nutritious ingredient is actually the seed of a plant related to rhubarb. Despite its name, buckwheat contains no gluten. Share your moment on Instagram #youplateit
Ingredients
2 Chicken Breast

80 Grams of Buckwheat

1 Red Onion

2 Garlic Clove

1 250ml Pack of Chicken Stock

40 Grams of Whipping Cream

40 Grams of Butter (pantry)

20 Grams of Parmesan (Shredded)

150 Grams of Swiss Brown Mushrooms
Recipe
Prepare Ingredients:
Preheat the oven to 180°C. Wash the fresh produce. Peel and finely slice garlic. Small dice ½ red onion you will have remainder. Cut the mushrooms into bite size pieces.
Cook Chicken:
Pat dry chicken with paper towel. Place in an oven proof dish and season with salt and pepper. Put half the butter on top of the chicken and put in the oven. Cook for 20 minutes until juices run clear when pricked with a knife. Tip: the butter will baste the chicken as it is cooking - Mmmmm!.
Sauté Onion:
Heat oil in a pan over medium high heat. Add onion and ½ the garlic. Sauté until onion is tender, about 5 minutes.
Make Risotto:
Heat up chicken stock we heated ours in the microwave for 1 minute. Rinse buckwheat well under cold water. Add buckwheat and stock to the pan and stir occasionally until stock is absorbed, about 14-15 minutes. Add cream and parmesan reserve a little for garnish and season to taste.
Cook Mushrooms:
Heat remaining butter and oil over heat until foaming. Add mushrooms and remaining garlic. Stir until mushrooms are tender and golden, about 3 minutes.
You Plate It:
Divide risotto between plates and top with sliced chicken and mushrooms. Garnish with reserved parmesan. Enjoy!