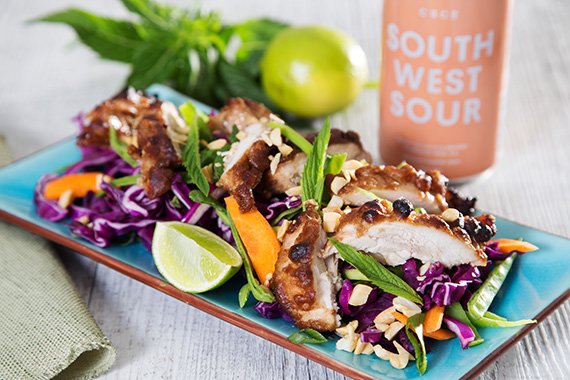 Chicken Thighs in Crunchy Hoisin Coating with Asian Chop Salad
Prep time:

30

minutes

Calories: 760
This recipe is inspired by Matt Preston and his philosophy of using simple cooking techniques to make your dinner better. Here you will marinate the chicken thighs in a combination of peanut meal, hoisin and salt. This marinated chicken is complemented with a salad made from carrot, red cabbage snow peas and spring onion. Enjoy. #youplateit
Ingredients
100 g of Roasted Peanuts

1⁄2 Cup of Hoisin

3 of Chicken Thighs (skinless)

1⁄6 of Red Cabbage

1 of Carrot

150 g of Snow Peas

2 of Spring Onion

1 Small Bunch of Mint

1 of Lime
Recipe
Prepare Peanuts:
Preheat oven to 200°C. Wash the fresh produce. Lightly oil a lined baking tray. Using a food processor, stand mixer or stick blender, blitz
3
⁄
4
of the peanuts until they become a fine meal.
Marinate Chicken:
Tip peanut meal into a large mixing bowl. Add the hoisin, 2 TBS warm water and salt. Pat dry the chicken with paper towel then add, and coat with the paste.
Bake Chicken:
Add the marinated chicken to the lined baking tray. Bake for about 20 minutes, until the chicken is cooked through and the paste is dark and bubbling. You can always give them a quick blast under the grill at the end to create those dark bits.
Prepare Asian Salad:
Remove the core of the red cabbage, finely slice into bite size pieces (or thinner if preferred). Halve the carrot lengthways then finely slice into half circles. Chop the ends off the snow peas and finely slice. Cut the ends off the spring onions and finely dice on an angle. Roughly chop remaining peanuts.
You Plate It:
In a large bowl combine the red cabbage, carrot, snow peas and spring onion. Tear the leaves off the mint, discarding stems. Cut the chicken into 1 cm slices, add to salad then top with chopped peanuts and torn mint leaves. Squeeze over lime juice to taste and even a light drizzle of olive oil if desired. Enjoy!