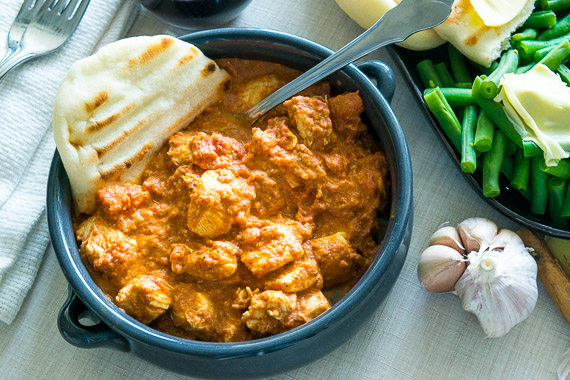 Chicken Tikka Masala with Buttered Naan & Green Beans
Prep time: 30
Calories: 610
This curry is a dinner full of comforting flavours and enchanting spice. The combination of chicken, ginger and garlic is complemented perfectly with the classic Indian spice, garam masala. Garam masala is a blend of ground spices popular in north India and Pakistan. The make-up of garam masala differs regionally but will almost always include cloves, cinnamon, nutmeg and cumin. Share the moment you plate this curry on Facebook or Instagram #youplateit
Ingredients
2 Garlic Clove

1 Ginger

2 Chicken Breast

1.25 Tablespoons of Garam Masala

1 400 Gram Pack of Diced Tomatoes

0.5 Cups of Thickened Cream

1 2 Pack of Naan

1 Tablespoons of Butter (pantry)

200 Grams of Green Beans
Recipe
Prepare Ingredients:
Preheat oven to 200°C. Wash the fresh produce. Peel and mince garlic and ginger. Pat dry chicken with paper towel; cut into bite size pieces. Bring a pot of water to a boil.
Cook Chicken & Start Sauce:
In a large high sided pan, heat oil on medium heat. Add the chicken, season with salt and pepper. Cook about 3 minutes, or until browned on the outside, stirring occasionally. Add the garlic and ginger, and cook about 1 minute more. Stir in ¾ of the diced tomatoes you will have remainder and the garam masala. Simmer for 3 minutes, or until slightly thickened.
Simmer & Finish Sauce:
Stir in the thickened cream, simmer for 3 minutes longer. Use a slotted spoon to remove and set aside the chicken in a separate bowl or plate. Simmer the sauce 1 to 2 minutes longer until the sauce thickens. Add the cooked chicken back into the sauce.
Toast Naan:
Place the naan on a baking tray, or directly on the oven rack, and heat for about 2 minutes, or until warmed through and soft. Tip: Keep an eye on the naan to ensure they don't burn. Add butter as desired.
Cook Green Beans:
Trim the ends off the beans, cut into 2-3 cm pieces. Add beans and a generous pinch of salt to the pot of boiling water. Blanch until bright green, about 2-3 minutes or to preferred doneness, then drain.
You Plate It:
Taste and add salt and pepper as needed. Divide chicken tikka masala, green beans and buttered naan evenly between plates. Enjoy!