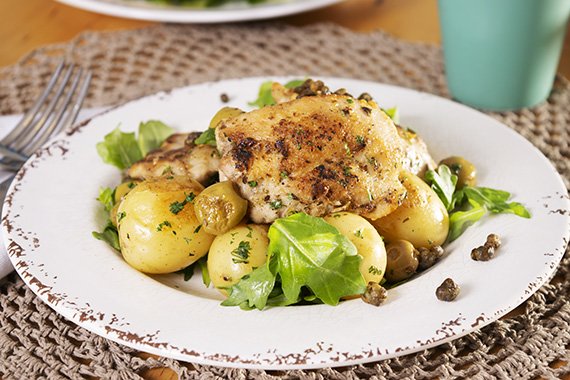 Chicken with Olives, Lemon and Crispy Capers
Prep time:

35

minutes

Calories: 496
Combine chicken thighs with chat potatoes and capers to make this quick and easy midweek meal, with green olives and lemon to add some extra oomph! Served with some simple green leaves, it's sure to satisfy. Be sure to share the moment #youplateit on Instagram or Facebook. Enjoy!
Ingredients
400 Grams of Chat Potatoes

40 Grams of Oregano Flour (GF)

2 Tablespoons of Baby Capers

3 Chicken Thighs (skinless)

35 Grams of Green Olives (pitted)

1 75 Gram Pack of Rocket & Baby Spinach

1 Lemon

1 Small Bunch of Flatleaf Parsley

120 Grams of Snow Peas
Recipe
Cook Potatoes:
Cut potatoes in half and place in a pot and cover with water. Cover and bring to the boil, and cook for 6-8 minutes, or until tender when pierced with a fork. Drain potatoes and set aside. Wash the fresh produce. Zest lemon. Pick parsley, discarding stems, and roughly chop the leaves. De-string snow peas and cut in half on a slight angle.
Seal Chicken:
Pat dry chicken with paper towel. Cut the chicken thighs in half, season with salt. In a bowl, add the chicken and coat well with the oregano flour. Heat oil in a pan (enough to cover the base) over medium-high heat. Add chicken (shaking off excess flour) to the pan to seal, cooking for 10 minutes, until golden brown.
Add Potatoes, Olives & Snow Peas:
Add drained potatoes and olives and cook for a further 10 minutes, until potatoes are browned and chicken is cooked through. When the chicken is almost cooked, throw in snow peas and cook until tender, but still crunchy. (NOTE: We had a suggestion from a customer to add in some more greens on this recipe, so we listened. That's why you don't see any snow peas in the pic 😉 )
Fry Capers:
Meanwhile heat another pan over high heat, adding enough oil to cover the base. Add capers and fry until crispy, about 2-3 minutes. Remove capers with a slotted spoon and set aside on a paper towel-lined plate.
You Plate It:
Finish chicken with a squeeze of lemon juice, lemon zest (to taste) and parsley. Season with salt and pepper. Divide rocket & baby spinach leaves between plates, serving the chicken and potatoes on top. Garnish with crispy capers and enjoy!