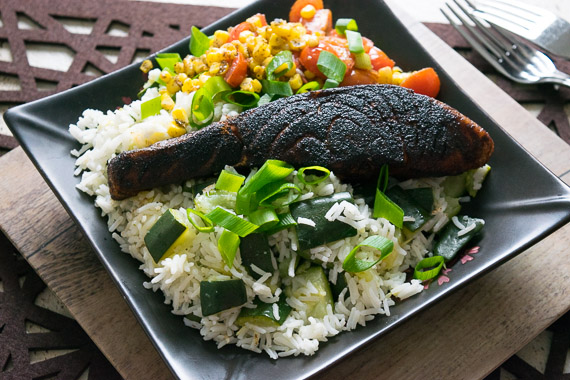 Chipotle Blackened Salmon with Zucchini Rice Pilaf & Corn-Tomato Salsa
Prep time: 25
Calories: 546
The time-tested technique of "blackening" is a guaranteed method for making things delicious. In this fresh and simple dish, you will blacken salmon: coating it in a mild chili powder and searing it in a hot pan. This allows the spice to char slightly, releasing a burst of its flavour and creating a signature flavourful crust. Cooking tip: Microwave the corn for 20 seconds, this will make it easier for you to peel and remove those annoying hairs.
Ingredients
2 Salmon Fillets (Skin on)

0.66 Cups of Jasmine Rice

150 Grams of Cherry Tomatoes

2 Spring Onion

3 Garlic Clove

2 Sweet Corn Cob

1 Zucchini

2 Teaspoons of Chipotle Chili Powder
Recipe
Prepare Ingredients:
Wash the fresh produce. Remove the salmon from the refrigerator to bring to room temperature. Quarter tomatoes. Cut off and discard the roots of the spring onion; thinly slice, separating the white bottoms and green tops. Peel and mince the garlic. Remove and discard the husks and silks of the corn. Cut off the kernels; discarding the cob. Medium dice the zucchini.
Make Rice Pilaf:
In a large pot, heat olive oil or a dash of water on medium-high until hot. Add the zucchini; season with salt and pepper. Cook, stirring occasionally, about 2 minutes, or until softened. Stir in half the garlic and cook, stirring occasionally, 30 seconds to 1 minute, or until fragrant. Stir in 1¼ cup water and the rice. Bring to a boil; cover and reduce the heat to low. Cook 16 to 18 minutes, or until the liquid is absorbed. Remove from heat; season with salt and pepper to taste. Cover and set aside.
Cook Salmon:
In the meantime, pat dry salmon with paper towel. Season with salt and pepper and the chipotle chili powder add to taste, only using a little if you don't like chili. In a large pan, add olive oil on medium heat. Add the salmon; cook 3 to 4 minutes per side, or until crispy and cooked through. Transfer salmon to a plate and loosely cover with foil.
Prepare Corn Salad:
On medium-high heat, in the same pan, add the corn. Stir occasionally, 1 to 2 minutes, or until slightly softened. Add the white bottoms of the spring onion and remaining garlic and tomatoes; cook 30 seconds to 1 minute, or until softened and fragrant. Remove from heat. Add half the green tops of the spring onion; season with salt and pepper to taste and stir until well combined.
You Plate It:
Divide the rice, corn salad and salmon between plates. Garnish with the remaining green tops of the spring onion. Enjoy!